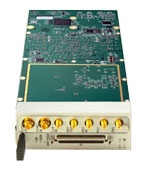 Burnaby, BC (PRWEB) September 18, 2012
Spectrum Signal Processing by Vecima today announced the AMC-1151 Wideband Digital Receiver Module, an ultra high speed digitizer and processing solution that enables direct analog-to-digital conversion between 100 MHz and 3 GHz. The board features a 3.2 GSPS or 3.6 GSPS 12-bit ADC, a Xilinx® Virtex®-6 user programmable FPGA, and 1 GB DDR3 SDRAM. The module supports multi-board synchronization that provides fine phase coherency for multichannel applications. The AMC-1151 can be deployed in MicroTCA (uTCA) and AdvancedTCA (ATCA) environments.
"This is the first module for Spectrum to offer in the Advanced Mezzanine Card (AMC) form factor which is increasingly being selected for military and signals intelligence applications," said Mark Briggs, General Manager of Spectrum. "MicroTCA offers affordability, scalability, and a thriving ecosystem."
The AMC-1151 is an extension of the product family that includes XMC, 3U OpenVPX, and PC/server based variants. This family of high speed digitizers is proven to support multi-board synchronization with phase coherency within 5 degrees between channels, making it attractive for demanding receiver applications, such as direction finding, beamforming and MIMO.
The AMC-1151 features the following:

One 3.6 GSPS 12-bit ADC channel (or two channels at 1.8 GSPS); alternative build option includes one 3.2 GSPS 12-bit ADC channel (or two channels at 1.6 GSPS)
Xilinx Virtex-6 User FPGA
1 GB DDR3 SDRAM
PCI Express Gen2 x4 high speed serial connection
Digital downconverter (DDC) IP included
To order, call 1.800.663.8986 or email sales(at)spectrumsignal(dot)com. For more information, visit http://www.spectrumsignal.com.
ABOUT SPECTRUM SIGNAL PROCESSING BY VECIMA
Spectrum Signal Processing designs and builds board and system-level hardware solutions for demanding signal and video processing applications. Spectrum combines high-performance data acquisition (RF, analog and digital I/O) and reconfigurable signal and video processing hardware with its best-in-class support and engineering services to enable customers to rapidly develop and then deploy their products and systems. Spectrum has worked with both commercial and military customers worldwide to develop and deliver solutions optimized for Intelligence, Surveillance and Reconnaissance (ISR), video, military (MILCOM) communications and satellite communications (SATCOM) markets. For more information on Spectrum and its products, please visit http://www.spectrumsignal.com. Spectrum is part of Vecima Networks Inc. and its products are designed and manufactured in Vancouver, British Columbia, Canada. See http://www.vecima.com for more information on Vecima.
FORWARD-LOOKING SAFE HARBOUR STATEMENT
Certain statements in this press release may constitute forward-looking statements within the meaning of applicable securities laws. All statements other than statements of historical fact are forward-looking statements. These statements include but are not limited to statements regarding management's intentions, belief or current expectations with respect to market and general economic conditions, future sales and revenue expectations, future costs and operating performance. These statements are not guarantees of future performance and involve risks and uncertainties that are difficult to predict, and/or are beyond our control. A number of important factors could cause actual outcomes and results to differ materially from those expressed in these forward-looking statements. These factors include, but are not limited to, the current significant general economic uncertainty and credit and financial market volatility and the distinctive characteristics of Vecima's operations and industry and customer demand that may have a material impact on, or constitute risk factors in respect of Vecima's future financial performance, as set forth under the heading "Risk Factors" in the Company's Annual Information Form dated September 28, 2011, a copy of which is available at http://www.sedar.com. In addition, although the forward-looking statements in this press release are based on what management believes are reasonable assumptions, such assumptions may prove to be incorrect. Consequently, readers should not place undue reliance on such forward-looking statements. In addition, these forward-looking statements relate to the date on which they are made. Vecima disclaims any intention or obligation to update or revise any forward-looking statements, as a result of new information, future events or otherwise, except as required by law.
Product and company names mentioned may be trademarks and/or registered trademarks of their respective holders.