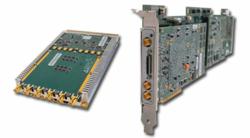 At Spectrum we are expanding our product offerings to address key trends in today's embedded computing systems
Burnaby, BC (PRWEB) November 24, 2010
Spectrum Signal Processing by Vecima ("Spectrum"), trusted supplier of embedded computing and processing solutions for more than 20 years, today announced they will demonstrate two new high-performance signal processing solutions at this year's Wireless Innovation Forum SDR '10 Conference in Washington, D.C. starting November 30th.
The demonstration will highlight the newest additions to Spectrum's arsenal of production-ready, flexible signal processing solutions: the RF-4902, a 3U wideband, frequency agile RF tuner and exciter, and the SDR-2010, a pre-integrated signal processing system that combines A/D and D/A conversion and FPGA processing in an Intel-based PC. The RF-4902 provides wideband RF capability to the mature SDR-4000 family, which is widely used in the SDR (Software Defined Radio) and ISR (Intelligence, Surveillance, and Reconnaissance) community. The SDR-2010 leads a growing trend among today's ISR system providers to deploy PC-based signal processing systems that reduce cost, speed up development, and meet the increasing demands on I/O and processing required to collect and analyze data.
"At Spectrum we are expanding our product offerings to address key trends in today's embedded computing systems," said Douglas Fast, President of Spectrum. "At SDR'10, we will demonstrate first-hand the capabilities of these new products. The RF-4902 enhances the capabilities of our widely-used SDR-4000 platform; while the SDR-2010 has already shipped to key defense customers to meet mission-critical needs with a standard PC-based platform."
SDR '10 is the leading technical conference and product exposition dedicated to the advancement of reconfigurable radio technologies from research through deployment. The conference takes place in Washington, D.C. this November 30th to December 3rd.
For more information, call us today at 1.800.663.8986 / 604.676.6700 or visit http://www.spectrumsignal.com.
ABOUT THE RF-4902
The RF-4902 is designed to provide customers with cost-effective, high-performance RF capability in a compact form factor for a wide range of applications including software-defined radio (SDR), tactical communications, and signals intelligence (SIGINT). Key highlights of the RF-4902 include:

Compact, single-width, 3U high form-factor
200 MHz to 2.5 GHz frequency coverage
Operable for applications requiring up to 195 MHz Receive, 400 MHz Transmit analog bandwidth
20 microsecond tuning switching time for demanding frequency hopping applications
Full-duplex transceiver capability for TDD and FDD waveforms
On-board user programmable Virtex5 SXT FPGA
Digital IF/baseband output via high-speed serial interface
Supports coherent operation across multiple modules for MIMO applications
Available in air-cooled or conduction cooled formats for use in harsh environments
Software API library, and reference software examples
The RF-4902 demonstration will feature the transmission of a complex signal through its digital-to-analog converter stage, followed by up-conversion to the L-band frequency range and display on a signal analyzer.
For more information:
» Visit the RF-4902 product page
ABOUT THE SDR-2010
The SDR-2010 is a pre-integrated signal processing system that provides high-speed A/D and D/A conversion combined with FPGA processing in an Intel-based PC or Server. An SDR-2010 system contains one or more of Spectrum's PRO-2910 PCI Express (PCIe) carrier boards, each with two XMC/PMC sites. The standard SDR-2010 configuration includes one XMC-1131, a dual ADC FPGA processing module, and one XMC-2131, a dual DAC FPGA processing module, mounted on one PRO-2910 carrier in a Intel-based tower PC running Red Hat Linux.
The SDR-2010 demonstration will show the hardware digitizing and down-converting an analog signal within the FPGA, and stream it directly into MATLAB on the host PC for processing and display. With MATLAB integration, customers can rapidly develop their own algorithms.
For more information,
» Visit the SDR-2010 product page
» Visit the PRO-2910 product page
ABOUT SPECTRUM SIGNAL PROCESSING BY VECIMA
Spectrum Signal Processing designs and builds board and system-level hardware solutions for demanding signal and video processing applications. Spectrum combines high-performance data acquisition (RF, analog and digital I/O) and reconfigurable signal and video processing hardware with its best-in-class support and engineering services to enable customers to rapidly develop and then deploy their products and systems. Spectrum has worked with both commercial and military customers worldwide to develop and deliver solutions optimized for Intelligence, Surveillance and Reconnaissance (ISR), video, military (MILCOM) communications and satellite communications (SATCOM) markets. For more information on Spectrum and its products, please visit http://www.spectrumsignal.com. Spectrum is part of Vecima Networks Inc and its products are designed and manufactured in Vancouver, British Columbia, Canada. See http://www.vecima.com for more information on Vecima.
FORWARD-LOOKING SAFE HARBOUR STATEMENT
Certain statements in this news release may constitute forward-looking statements which involve known and unknown risks, uncertainties and other factors which may cause the actual results, performance or achievements of the Company, or industry results, to be materially different from any future results, performance or achievements expressed or implied by such forward-looking statements. When used in this news release, such statements are generally identified by the use of such words as "may", "will", "expect", "believe", "plan", "intend" and other similar terminology. These statements reflect Vecima's current expectations regarding future events and operating performance and speak only as of the date of this news release. Forward-looking statements involve significant risks and uncertainties, should not be read as guarantees of future performance or results, and will not necessarily be accurate indications of whether or not such results will be achieved. A number of factors including, but not limited to, the factors discussed under "Risk Factors" in the Company's Annual Report dated September 28, 2009 available on SEDAR (http://www.sedar.com), could cause actual results to differ materially from the results discussed in the forward-looking statements. Although the forward-looking statements contained in this news release are based upon what management of the Company believes are reasonable assumptions, the Company cannot assure investors that actual results will be consistent with these forward-looking statements. These forward-looking statements are made as of the date of this news release, and the Company assumes no obligation to update or revise them to reflect new events or circumstances.
###