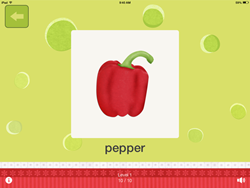 Wellington, FL (PRWEB) February 18, 2014
The National Association for Child Development and Blue Whale Apps announced today the release of two new iPad applications that assist children and adults with speech and articulation.  Both apps follow the same easy to use and successful format of the first app released in March 2012, "Speech Therapy for Apraxia -NACD Home Speech Therapist."
"Speech Therapy for Apraxia-2 Syllable Words" is part of the NACD Home Speech Therapist line and is a fun, user-friendly app that practices articulation in 2-syllable words, a perfect follow-up to the successful one-syllable words iPad app, "Speech Therapy for Apraxia-Words". "Speech Therapy for Apraxia-Ending Sounds" practices articulation of final consonants by providing vowel + consonant syllables.
Click here to download Speech Therapy for Apraxia - Ending Sounds.
Click here to download Speech Therapy for Apraxia-2 Syllable Words.
"What makes these apps so useful is that they can be easily used by either parents or therapists, and they can be used for a variety of purposes—whether motor planning (as for apraxia), or straight articulation, or even just eliciting early productions in young children. They can be used with adults as well as kids," said Lori Riggs, Speech-Language Pathologist at NACD.
Because the emphasis is on the user's speech production and articulation, the parent or therapist serves as an active participant in each session, providing the user with feedback, reinforcement, and additional modeling. These apps are not intended for independent use.
Speech therapists can use the apps in formal therapy sessions as part of a comprehensive approach to articulation and motor planning. Using tablet devices in therapy sessions has proven to be quite beneficial, as clients respond positively to the tablet apps, especially children.  In addition, parents can use them to work with their children at home. As one mom stated, "These apps have guided us through my son's speech therapy progression. This was the perfect solution to the next step in our progress."
Experts say that the tablet devices such as the iPad allow the child to have more control. The devices simplify their engagement to just touch rather than having to use a keyboard and mouse. They are especially helpful to those with autism and speech issues.
"Our Speech Therapy apps have had an enormous impact on the lives of children and adults that are working with an SLP," said Gregg Weiss, CEO of Blue Whale Apps the mobile app development company responsible for developing the app.
About NACD
The National Association for Child Development is a unique organization with a unique approach to brain growth and development. Founded in 1979 by Bob Doman, NACD has helped parents enhance the development and function of their children for over 30 years. In its work with tens of thousands of clients, NACD has developed an approach to human development, the achievement of human potential, and the remediation of developmental, educational, and neurological problems that is based upon the gestalt of the individual. The efficacy of NACD's Targeted Developmental Intervention has been demonstrated with individuals from infant to geriatric, whose function has ranged from comatose to gifted. It is from this background and experience that the NACD team of neurodevelopmentalists and therapists, including speech/language pathologists, has created the NACD Home Speech Therapist line of speech apps.
About Blue Whale Apps
Blue Whale Apps is a mobile app development company specializing in high quality and engaging iPhone and iPad applications for medical professionals and the healthcare industry. Blue Whale brings you a team of highly experienced professionals who have worked with the world's leading technology, advertising and design companies.