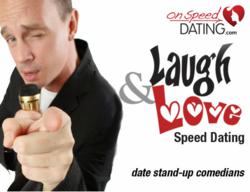 You really can't go wrong with a man that makes you laugh.
(PRWEB) April 25, 2013
OnSpeedDating.com, the most ambitious dating service to hit the concrete grid, will host their first-ever "Laugh & Love" Speed Dating event on Monday, May 6th at Gramercy hot spot The Watering Hole (wateringholenyc.com).
Women looking to meet a guy that makes them laugh will have their pick of the city's single professional and amateur comedians at what is sure to be a "LOL" singles event.
"Steve Carrell, Ricky Gervais, and Vince Vaughn may not be the most traditionally attractive men, but despite this millions of women find them unbelievably sexy," explains OnSpeedDating Co-Founder Amber Soletti. "You really can't go wrong with a man that makes you laugh and this insight was the catalyst that inspired this new singles event theme."
Upon arriving to the venue at 7:00pm, single stand-up comedians will attempt to impress women with their comic wiles as they perform three to five minute "speed" comedy sets. The men will then have the chance to 'seal the deal' with the ladies they're courting via a round of three-minute "speed" dates.
WHAT: Laugh & Love Speed Dating
DATE: Monday, May 6th 2013
START TIME: 7:00 pm
WHERE: The Watering Hole – 106 E 19th Street, New York City
REGISTRATION & COST: Singles interested in attending can register at OnSpeedDating.com for $35.00
OnSpeedDating is an innovative dating service created for savvy, swinging, city-dwelling singles who are tired of events geared to traditional criteria, like age range, income and personality IQ. What sets OnSpeedDating.com apart is its ability to foster personal connections through super "niche" singles events themed around people's dating "deal-breakers"; think physical preferences, political views, backgrounds, interests and even fetishes.
This online dating service produces singles parties, networking events, speed dating, wine tastings, dating advice and much more for singles of all orientations across Manhattan and the five boroughs.
OnSpeedDating.com is a division of One Stop Singles LLC, which offers larger-scale singles parties through its SingleAndTheCity.com division. SingleAndTheCity.com delivers quality and quantity by offering its diverse NYC clientele "themed" singles parties including a "Rescue Me" Fireman Singles Party, "Cougar/Boy Toy" Hunt, and "Size Matters" Soiree (for guys and gals with a hankering for height.) Between the two dating services, NYC singles can to attend six to eight events per month.
Upcoming OnSpeedDating events:
"Player's Night" Speed Trivia– April 24, 2013
"Beauty & The Geek" Speed Dating– April 29, 2013
"Curls Gone Wild" Speed Dating– May 14, 2013
"Child Proof" Speed Dating– May 14, 2013
"Mr. Right Now" Speed Dating– May 15, 2013
"Bald & The Beautiful" Speed Dating– May 19, 2013
"Not from NYC" Gay Speed Dating– May 19, 2013
"Hot or Not" Speed Dating– May 20, 2013