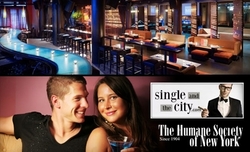 Love is a numbers game
New York (Vocus) July 31, 2010
SingleAndTheCity.com and Groupon.com marry up this summer to help NYC singles find love and break the world speed dating record at New York's largest singles party of the summer: 6:30 pm – 11:30 pm on August 10th at Slate in Chelsea. More than 1,000 sexy, NY singles of all orientations are expected to gather to break the current world record of 313, to be verified by Guinness World Records.
"Love is a numbers game," says OnSpeedDating.com co-founder, Carmine Di Re. "By partnering with Groupon to reel in their 400,000 New York members we are very optimistic that this party will be a catalyst for many love connections."
"New York has never seen a dating event this large and diverse, and our single customers are going to love it," says Groupon NYC's Regional Sales Director, Lina Lee. "We're expecting to hear about Groupon couples, marriages, babies and maybe even some divorces - only time will tell."
A limited number of tickets (500 for men, 500 for women) will be available for purchase exclusively on Groupon.com on Sunday, August 1st for $32.00. Two dollars per ticket sale will go directly to the Humane Society of New York.
"We are so excited to make the Humane Society our charity partner on this event", says OnSpeedDating.Com co-founder, Amber Soletti. "I recently adopted an amazing cat Miu Miu, so I'm definitely a fan of the Humane Society and what they do. Pets are a singles' best friend, so we're hoping to raise awareness and funds to help our furry friends find loving homes."
More than 1,000 singles are expected to attend the dating debauchery, which will include "themed" nyc speed dating sessions for the first 450 that register in attempt to break the standing Guinness World Record for largest speed dating event. Also built-into the ticket price (valued at $100) are "ice breaker" games which act as a catalyst for conversation between singles; a one-hour open bar hosted by Sauza; appetizer and dessert bar; "speed gaming" where singles will partner up to try their hand at pool, ping pong and foosball; "Love and Sex" Tarot Card readings with renowned psychic Maria Pirone; free flirt advice from Laurie Davis, founder of the eFlirt Expert; and Usnaps.com photo booths to capture all of the behind-the-scenes action. And because no party can get started without tunes, NYC's own DJ Cisco will be spinning hip-hop and Top 40 as singles dance and mingle the night away.
Speed dating NYC themes for the first 450 registrants include "Beauty and The Geek," "Size Matters" for tall men 6'1+ and the women who love them, "Have Passport Will Travel" for worldly singles, "Puppy Love" for single dog lovers, "Boy's Night" for single gay men, "Fitness Singles," "New to New York" for fresh arrivals, "Corporate America," and "Girl's Night" for lesbian women. Swag bags, featuring HerCut the first-ever HairCare for your Haircut, gift certificates from Silk And Sheer Laser Hair Removal Center, Kerastase, David Barton Gym, Dylan's Candy Bar and more, will be awarded to the remaining 200 singles standing at closing time at 11:30 p.m.
Slate is located at 54 West 21st Street between 5th Avenue and Broadway in New York City. Doors will open at 6:30 p.m.
OnSpeedDating.Com: OnSpeedDating.com (OSD) is an entirely new breed of speed dating. Delivering quality and quantity, the service offers NYC singles niche events themed around dating deal breakers as well as quirks and fetishes like "Hot for Teacher", "Date a Democrat", "Gentlemen Prefer Blondes", "Inked" for tattooed singles, "Non-Practicing Jew" night, "Have Passport, Will Travel", "Mr. Right Now" and "Size Matters" for guys and gals with a hankering for height and "Wing Women" for women seeking a partner in crime when they hit the dating scene. With the promise of at least 10-25 'dates' per event, singles are sure to have their pick of matches. Admission fees range from $30 to $40 per event.
Groupon: Groupon, launched in November 2008 in Chicago, features a daily deal on the best stuff to do, eat, see and buy in more than 200 cities around the world. Groupon uses collective buying power to offer unbeatable prices and provide a win-win for businesses and consumers. For more information or to subscribe to get Groupon's daily free email for the best in your city, visit Groupon.com.
CONTACT:
Amber Soletti
PR Contact / OnSpeedDating
P) 917.558.3033
amber(at)singleandthecity(dot)com
Julie Anne Mossler
PR Manager / Groupon
P) 312.242.2033
julie(at)groupon(dot)com
# # #