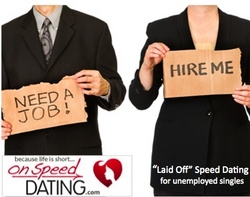 Singles aren't moving to NYC to meet 'the one' or settle down
New York, NY (Vocus) September 8, 2010
Despite New York City being the singles capital of the world with an estimated 5.5MM singles accounting for almost 28% of the population, it still remains one of the most difficult cities to meet someone.
"Singles aren't moving to NYC to meet 'the one' or settle down," explains NYC single Ginger Brown. "They're moving here to work and play hard, to make their millions and have as much fun as they can in the process. I find the best way to meet relationship-minded singles is by attending singles events. The problem is most of the events out there are hit or miss meaning you never know what you're going to get."
You didn't know until now. Understanding the difficulties of being single first-hand, OnSpeedDating Co-Founders and resident singles Amber Soletti and Carmine Di Re are on a mission to raise the bar on NYC singles events and increase the chance for connection by offering "themed" events based on common interests, physical preferences, backgrounds and even fetishes.
"We all have relationship 'deal-breakers,' and that does not make us shallow, we're just single New Yorkers that know what we want," explains Soletti. "We're big believers in 'ask and you shall receive'. After a couple of months of interviewing and polling our database of over 20,000 NY singles we're really excited to introduce 12 new and unique speed dating NYC events that only we can."
Ramping up an already comprehensive offering of over 60 "themed" speed dating NYC events, new additions to the OnSpeedDating menu include: a "Tough Love" event where singles that do not get selected as a "match" by someone receive the "closure" as to why via a post-event email summary of daters comments. "Knowing is really half the battle," explains Di Re. "We designed this event to be the equivalent of hiring a dating coach, yet way more affordable and effective as you're getting feedback from 10-20 singles in one night."
Also being introduced this Fall is a "Fit to be Tied" event for adventurous and uninhibited NY singles looking to incorporate some "kink" into their love life by meeting like-minded singles interested in participating in what some may consider, more "non-conventional" bedroom games and activities. . "Southern Comfort" speed dating for single women interested in dating Southern transplants, "Metro" speed dating for single women that want to date metrosexual men and a "Coupled" speed networking night for couples looking to meet other couples to engage in platonic activities and outings with. Given the popularity of OnSpeedDating's "Men With Accents Are Hot" (as featured on CNN), they are now going to offer the equivalent for single men that want to date women with accents.
Also new on the dating docket is a "Child Proof" speed dating NYC event for NY singles that don't want to have children ever, "Food for Thought", a delicious new speed dating event for food-savvy singles with an appreciation of quality cuisine, "Movie Buff" night for single movie-goers, "Salsa Lovers" Speed Dating and a "Laid Off" event for unemployed singles that finally have time to focus on their "love life" now that they don't have a steady nine to five.
With the promise of at least 10-20 "dates" per event, even the most super selective New Yorkers are sure to have their pick of matches. Admission prices range from $30 to $40 per event depending on the theme. Along with their speed dating site, they also offer free online dating throughout Canada and the United States via their sister site Kissburg.Com and NYC singles parties and events through SingleAndTheCity.Com.
Visit them at OnSpeedDating.Com, Kissburg.Com, NYSpeedDating.Com. SpeedDatingNYC.Com and SingleAndTheCity.Com for membership and event information.
###