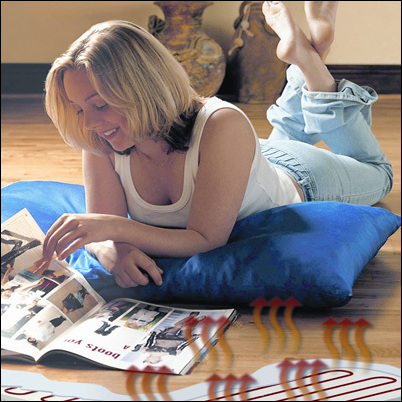 Radiant heating has a number of advantages: It is more efficient than baseboard heating and usually more efficient than forced-air heating because no energy is lost through ducts. The lack of moving air can also be advantageous to people with severe allergies.
Atlanta, GA (PRWEB) January 11, 2007
Floor warming is becoming an increasingly popular upgrade as more homeowners are requesting toasty tiles in the bathroom and asking for warm floors throughout other parts of the house. To help flooring retailers, renovators and builders meet the growing demand for this trend, Speedheat® has just introduced a new program that makes it easy and lucrative for resellers to offer TileWarm™ to consumers.
TileWarm™ is a revolutionary floor heating system by Speedheat®, a world leader in the radiant heating industry for over 20 years. TileWarm™ is easy to install under ceramic tile, stone, marble and even vinyl. TileWarm™ is part of Speedheat's newly introduced Generation4™ product line that features the most technologically advanced electric radiant floor heating systems in the world. The entire G4™ line offers distinct advantages in comfort, conservation, health and safety.
"Luxury upgrades, such as floor warming, are a valuable tool for builders, renovators and flooring stores to increase their margins," says Peter Newman, President of Speedheat U.S. "With the introduction of our new reseller program, we wanted to make selling our under floor heating systems as advantageous as possible. There are no up front costs, and we offer complimentary promotional materials, free quotes, installation assistance, and the ability for our resellers to make 40% or greater profits."
Speedheat Ensures Reseller Success:
With Speedheat's new reseller program, qualified partners enjoy extremely competitive pricing on TileWarm™ and Speedheat's other Generation4™ under floor warming systems including CarpetMate™ WoodBeWarmer™ and RugBuddy™. Resellers are not required to carry inventory, and Speedheat will provide complimentary literature and free custom quotes. Resellers may mark up the systems as they wish. Speedheat will also provide resellers with installation training for their employees and/or contractors via their web site, toll free support line at 1-888-WARM-FLOOR (1-888-927-6356) and through training in the metro Atlanta area.
Becoming a Speedheat® Reseller is Simple:
To become a reseller and be eligible for 40% discounts off recommended retail prices, prospective partners must own a business in the flooring, design, architectural, building, renovation and/or construction industries. To become registered, resellers may fax a copy of their business card and/or business license to 1-888-927-6357 or they may email a link to their web site via Speedheat's contact form. To obtain free quotations, resellers may simply fax or email their floorplans to Speedheat, and they will receive a highly competitive quote for the product (and a price for optional installation by Speedheat's trained technicians within a 50 mile radius of Atlanta).
"As a reseller, Speedheat® will help you promote the product and offer installation assistance," says Pieter Jansens, Chairman of Speedheat International. "With the industry's most advanced products, generous reseller pricing, satisfaction guarantees, and greater installation flexibility in tricky spaces, we strive to make floor heating an easy-to-sell upgrade that is highly profitable for our sales partners."
Speedheat® Generation4™ Systems Offer Many Unique Advantages:
Speedheat® is easy to install at any time, in any room and under virtually any floor covering (carpet, stone, floating wood, laminates, vinyl and more). Other G4™ advantages include:
Customized Comfort and Ease of Installation:
Speedheat® systems are fully customized to meet the specific needs of each installation. Since many variables are taken into consideration in creating the optimum solution (i.e. flooring materials, climate, consumer preferences, subfloor construction, etc), Speedheat is happy to assist builders and contractors in specifying the correct products. Speedheat's feather thin heating element maneuvers easily in tricky spaces and the build up height is only 1/16", making the heating system perfect for installation in new and remodeled homes.
Optimized Energy Conservation:
Because Speedheat's ultra thin Generation4™ heating element is optimally engineered to be 'in touch' with floor finishes, it warms floors faster than any other systems and at lower, safer temperatures. Because the element is installed closer to the surface than other products, it uses less energy to operate. Speedheat® also uses more element per square foot than other manufacturers to achieve unequalled low operating temperatures which also reduces energy consumption. Because Speedheat's G4™ systems are the most responsive, their Intellistat™ thermostats also achieve comfort balance with microclimate adjustments, versus fully cycling on and off like other systems, which makes them even more efficient to operate.
Promotes Healthier Environments:
Speedheat's Generation4™ systems provide optimum thermal comfort at lower temperatures than conventional heating systems. This in turn means that G4™ does not dry out air as much as older generation systems. Lower air temperatures contain a lesser amount of moisture and bacteria, thus humidity discomfort and the levels of airborne particles are reduced. In fact, even the Department of Energy says, "Radiant heating has a number of advantages: It is more efficient than baseboard heating and usually more efficient than forced-air heating because no energy is lost through ducts. The lack of moving air can also be advantageous to people with severe allergies."
Uncompromised Safety:
Only Speedheat's G4™ systems feature the patented PTCSelfControl™ flexible heating element that is the thinnest in the industry at less than 1/16" in diameter. The self-regulating element prevents overheating, and the multi-stranded core is protected with a tough outer sheath to stop abrasion and corrosion. All Speedheat® products have undergone rigorous testing, including complete submersion in water while energized. All systems feature a full-surround ground screen that is an effective EMR, EMI and RFI shield, and GFCI protection provides absolute electrical safety. Speedheat's products are all UL-listed and National Electric Code (NEC) compliant.
Recent Publicity in USA:
Speedheat® was recently featured in This Old House Magazine's "20 of the Year's Coolest Tools, Gizmos and Gadgets" list. Speedheat® has also been featured in such publications as: Southern Living, House DIY (formerly do!), Atlanta Home Improvement, Points North, Living in Atlanta, The Atlanta Journal-Constitution and Rug Insider. Metropolitan Home magazine featured RugBuddy in their May 2006 Design 100 list. RugBuddy was also named as one of the "35 Best Home Products" in the February 2006 issue of Mountain Living.
Additional Information:
For information about reseller opportunities in America, please contact Peter Newman. For general product information, pricing estimates and/or installation scheduling, please contact Ingrid Weir. Phone 1-888-WARM-FLOOR (1-888-927-6356), fax 1-888-927-6357 or visit http://www.speedheat.us.
###