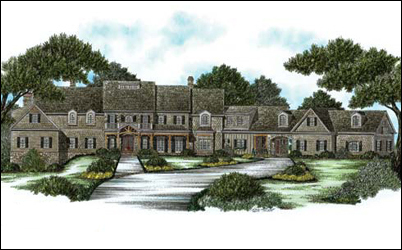 Our G4™ element improves comfort, health and safety. It also protects sensitive flooring and slashes energy consumption. Furthermore, only Speedheat® is fully customized to meet the specific needs of each application.
Atlanta, GA (PRWEB) March 1, 2007
The 11th annual Roswell Woman's Club Showcase Home, Lochstone Manor, will be open to the public from March 4-25, 2007. Located in north Fulton County, the 20,000+ square foot estate captures the timeless appeal of English country living and features all the conveniences to enhance today's lifestyle, including Generation4™ electric radiant floor heating by Speedheat® - one of the show's sponsors. For more information about tickets, show hours, directions and parking/shuttle instructions, please visit http://www.roswellwomansclub.org.
Lochstone is a modern-day English country manor that sits on a breathtaking 4.43-acre wooded, lakeside site. The exquisite estate features eight bedrooms, seven fireplaces, a six-car garage, elevator, wine room, state-of-the-art theatre room, exercise rooms, several kitchens, decking supported by flagstone columns, electric radiant floor heating and much more. Lochstone Manor was built by Greg Amico, President of Southern Home Properties, Inc. and was designed by Architect Tim Bryan of Bryan and Contreras LLC. The property is listed exclusively with Russ L. Robinson of RE/MAX Greater Atlanta for $7,250,000.
One hundred percent of all earned proceeds from the Showcase Home are donated to charity. As one of the show's sponsors, Speedheat® of Woodstock is proud to show their support for the Roswell Woman's Club and the more than 20 charitable and non-profit institutions they help support in the North Fulton area.
"We are truly honored to be included in this prestigious show home, and we look forward to educating builders and consumers about the many benefits of our electric radiant floor warming systems," says Peter Newman, President of Speedheat U.S. "We are also equally excited about 'giving back' to the community through our support of the Roswell Woman's Club, and we applaud their outstanding work."
In addition to serving as a sponsor, Speedheat's Generation4™ electric radiant underfloor heating systems were selected for use throughout the home. Lochstone Manor features almost 3,000 square feet of heated floors installed under travertine tile. G4™ floor warming systems are featured in the master bath, terrace-level foyer, billiard room and the bathrooms adjacent to the two exercise rooms.
While Lochstone Manor may be beyond the financial reach of most consumers, floor heating itself is no longer a luxury reserved for the rich and famous. With recent advancements in electric radiant heating, Speedheat® is a smart and luxurious upgrade that is surprisingly affordable and well within the reach of most homeowners.
Speedheat® Advantages:
Just as there are differences between a high-end luxury vehicle and a basic economy car, there are many distinctions in uderfloor warming products. While heating elements may look similar, the advanced technology behind Speedheat's Generation4™ products sets them apart in the industry.
"Because Speedheat's patented Generation4™ heating element is optimally engineered to be 'in touch' with floor finishes, it warms floors faster than any other systems and at lower, safer temperatures," explains Pieter Jansens, Chairman of Speedheat International. "Our G4™ element improves comfort, health and safety. It also protects sensitive flooring and slashes energy consumption. Furthermore, only Speedheat® is fully customized to meet the specific needs of each application."
Speedheat® Offers Warming Solutions for the Whole Home:
Speedheat® is easy to install at any time, in any room and under virtually any floor covering (carpet, stone, floating wood, laminates, vinyl and more). Speedheat® is the ideal choice for new construction as well as kitchen renovations, bathroom remodeling, sunroom additions and basement finishing projects. Other G4™ products include TileWarm™ WoodBeWarmer™ and CarpetMate™.
Speedheat® also offers a unique "zone heating" option called RugBuddy™ -- the only UL-listed heating mat in the world, approved for use under area rugs. RugBuddy™ is a portable heating blanket that plugs into a standard electrical outlet. It is an ideal solution when installing fixed radiant floor heating is not an option. Like an electric blanket for the floor, RugBuddy™ instantly turns area rugs into invisible space heaters and is an ideal floor warming solution for cold spots in any room of the home or office.
Backed by the Industry's Best Safety and Satisfaction Guarantees:
Only Speedheat's G4™ systems feature the patented PTCSelfControl™ self-regulating element that helps prevent overheating. The flexible heating element is the thinnest in the industry at less than 1/16" in diameter, and the multi-stranded core is protected with a tough outer sheath to resist abrasion and corrosion. All Speedheat® products have undergone rigorous testing, including complete submersion in water while energized. All systems feature a full-surround ground screen that is an effective EMR, EMI and RFI shield, and GFCI protection provides absolute electrical safety. Speedheat's products are all UL-listed and National Electric Code (NEC) compliant. Speedheat stands behind their products with their 100% commitment to quality and satisfaction.
An Innovative Leader for Over 20 Years:
As inventors of Generation4™ electric radiant heating, Speedheat has produced quality solutions since 1985. Speedheat has offices in 10 countries and is currently heating more than 30 million square feet of space worldwide.
Recent Publicity in USA:
Metropolitan Home magazine featured RugBuddy in their May 2006 Design 100 list. RugBuddy was also named as one of the "35 Best Home Products" in the February 2006 issue of Mountain Living. Speedheat was also recently featured in This Old House Magazine's "20 of the Year's Coolest Tools, Gizmos and Gadgets" list. Speedheat has also been featured in such publications/shows as: Southern Living, House DIY (formerly do!), Atlanta Home Improvement, Points North, Living in Atlanta, Atlanta Journal-Constitution, Chicago Tribune, HGTV, FloorRadio, FloorDaily, Rug Insider and the Ask Andrea™ nationally-syndicated home improvement radio show.
Additional Information:
For information about reseller opportunities in America, please contact Peter Newman. For general product information, pricing estimates and/or installation scheduling, please contact Ann Jones. Phone 1-888-WARM-FLOOR (1-888-927-6356), fax 1-888-927-6357 or visit http://www.speedheat.us.
###