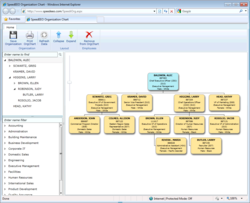 With the new Organizational Chart Builder in SpeedEEO companies can now easily create a visual representation of the company structure.
Dallas, TX (PRWEB) May 26, 2011
Speediware Corporation, providers of SpeedEEO, the all-inclusive web-based software as a service for generating OFCCP compliant Affirmative Action Plans(AAP), announced today the addition of an Organizational Chart Builder as an included feature for all SpeedEEO clients.
With the addition of OrgCharts to SpeedEEO, companies can develop an Organizational Chart as part of their all-inclusive Affirmative Action plan. Once developed, clients can print their organizational chart and update their reporting relationships within their company using the organizational chart builder's graphical user interface and drag and drop editing.
"With the new Organizational Chart Builder in SpeedEEO users can now easily create a visual representation of their company structure." said Richard Simon, President and CEO of Speediware Corporation.
SpeedEEO provides the power to produce and maintain all reports and documents necessary for an OFCCP compliant Affirmative Action plan delivered via the web. Because SpeedEEO is Software as a Service (SaaS), there is no software to load or large software fees to pay. The only requirement is a Web browser with Internet access, allowing customers to access their accounts from any location. With unlimited users and security options available at no additional cost, companies can collaborate and share work between multiple locations and employees.
Customers can start using SpeedEEO today by signing up for an account online by visiting http://www.speedeeo.com. SpeedEEO provides step-by-step guidance through the process to create 100% OFCCP compliant all-inclusive Affirmative Action Plans. As part of their superior customer support, Speediware provides free online and phone support to help with any questions, along with audit support and consultation.
About Speediware Corporation
Headquartered in the Dallas Texas Metroplex area, Speediware Corporation is a privately-held company which leads the industry in providing innovative, easy-to-use, Software as a Service solutions geared toward simplifying the HR responsibilities for companies of all sizes. Founded in 2003, to provide the most cost-effective AAP solution to all companies while still offering the highest quality, Speediware Corporation consultants offer over of 30 years of industry experience.
# # #