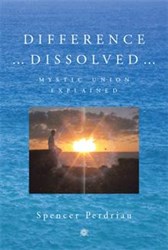 Freshwater, NSW, Australia (PRWEB) February 04, 2014
Spiritual/Mystical Unity is open and available to all, regardless of belief or religious preference. This is the self-realized universal ideal of contemporary mystic Spencer Perdriau. Towards the goal of world religious unity, he has written an insightful and wise tract about things that unify everyone and makes them equal in "Difference Dissolved".
In a world that has become so focused on distinction and difference, what is needed now is collective, not personal, experience and realization of the underlying Essence that pervades and unifies all equally. That Essence is everywhere and ever-present. It is the foundation of everything and is the same for us all. People may appear separate and different at the surface of life, but the essence and foundation is the same, and connects them all. They are all made of the same "stuff" of reality, and they all exist within the same "ocean of reality," no matter how different they personally take it.
If everyone had a glimpse of their essential foundation, their Ultimate Identity, that collective realization would create far more peace and equality in the world, which so desperately yearns for that remembering and restoration of Unity. Spencer Perdriau's "Difference Dissolved" is what he terms a "little" book devoted to sharing and inspiring all who have a deep yearning and passion for that great hope. In the realization of mankind's Greater Self, prejudice and difference dissolves, and in that awareness and understanding of Greater Unity, compassion, peace, and equality has room to flourish once more. In the author's own words, "You don't need to be a prophet, holy man, saint, or messiah to attain Mystic Union. If Unity were not attainable by ordinary man, then none of us would have the ability to realize The Eternal."
For more information on this book, interested parties can log on to http://www.Xlibris.com.au.
About the Author
"Only when you have experienced the lowest of the lowest are you then humbled enough to appreciate and experience The Highest Of The Highest." After overcoming a serious debilitating situation in early adulthood and after much introspection and questioning of reality, in early 1996 Spencer Perdriau involuntarily experienced three successive unified states of mystic union – the non-dual nature of reality. Since then he has devoted his further years afterwards expressing esoteric knowledge about the unified nature of reality, with key interests in transpersonal psychology and the mystic traditions of old. The author's work extends from transpersonal and spiritual ethics to human rights advocacy for mental well-being, while also diligently expressing the mystical nature of reality, complimenting both Eastern and Western world religious traditions. He is also a naturally gifted artist with tertiary qualifications in graphic design. His works have been endorsed by interfaith-interspiritual teacher, the late Brother Wayne Teasdale, who was closely associated with Bede Griffiths, Ken Wilber and His Holiness The Dalai Lama. Perdriau's autobiography "Awakening" was published in 2004 in the interspiritual collaboration, "Awakening The Spirit Inspiring The Soul", was published by SkyLight Paths and launched at the Parliament of the World's Religions conference held in Barcelona that same year. In early 2003, the author was very fortunate to have one of his conference papers forwarded on to his lifelong inspiration, Mr. Steven Spielberg. Since then, he's been greatly inspired to make numerous films that express human ethics and the unified (mystical) nature of reality. He has now made over twenty films since 2003.
Difference Dissolved * by Spencer Perdriau
Mystic Union Explained
Publication Date: November 6, 2013
Trade Paperback; $32.09; 353 pages; 978-1-4797-5885-2
Trade Hardback; $53.49; 353 pages; 978-1-4797-5886-9
eBook; $3.99; 978-1-4797-5887-6
Members of the media who wish to review this book may request a complimentary paperback copy by contacting the publisher at 1-800-455-039. To purchase copies of the book for resale, please fax Xlibris at (02) 8088 6078 or call 1-800-455-039. Xlibris books can be purchased at Xlibris bookstore. For more information, contact Xlibris at 1-800-455-039 or on the web at http://www.Xlibris.com.au.