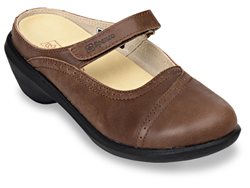 Whether you are an athlete trying to take better care of your feet, or an 8-to-5 office worker, Spenco shoes are the perfect balance between stylish and practical.
WACO, Texas (PRWEB) September 25, 2014
From the office to a night out or a weekend getaway, Spenco has done it again with the launch of a fashionable new line of footwear with superior arch support. For the first time, Spenco's new fall line includes more traditional, everyday styles for men and women.
"Our customers have fallen in love with our casual shoe line, and many of them wanted a business-casual option as well," said Jeff Antonioli, Spenco's vice president of sales and marketing. "Whether you are an athlete trying to take better care of your feet, or an 8-to-5 office worker, Spenco shoes are the perfect balance between stylish and practical."
Antonioli said Spenco® Footwear with Total Support® technology rises above competitors. The company designs the shoe around an orthotic insole, promoting foot alignment and offering motion control and cushioning. Research shows foot support can reduce pain, improve posture and prevent injuries.
The Rachel Clog
The new fall line includes the women's Rachel Clog with a wedge platform. The style has a full grain leather upper and a comfortable heel lift. The clog comes with a simple, clean instep strap and a hook-and-loop closure for the ultimate adjustment.
The Timberjack
New for men this fall, Spenco has introduced the Timberjack leather slip-on. Built on a newly engineered platform with a slight heel lift, the shoe gives increased cushioning and support in the forefoot and heel. The rugged style is detailed in tough and durable oiled leather, while maintaining a high level of comfort through a soft, breathable stretch-mesh collar.
The Heidi Slipper
For those snow days and weekends, or in the home office, Spenco has fashioned a colorful new slipper style for women. The Heidi slipper has a cozy Mary Jane silhouette, detailed in soft synthetic wool with a fleece lining and an edelweiss-embroidered detail.
The Nomad Moc
Spenco puts its best foot forward in everyday outdoor footwear with the Nomad Moc. This stylish slip-on style for men and women now comes in whole and half sizes – another first for the company's shoe line.
"High-quality elements, like a dual-density outsole and injected rubber toe cap, make this the most advanced piece of footwear to date for Spenco," Antonioli said. "From the walking trail to walking Main Street, the Nomad Moc will shore up your every step."
The Shape That Feels Great™ footwear line retails for $49.99 to $99.99 at many shoe stores and on the Spenco website.
Spenco Medical Corporation
Spenco, a leading producer of high quality insoles and foot care products, helps people everywhere achieve its motto of Love Your FeetTM. Based in Waco, Texas, Spenco provides the most advanced sports medicine and first aid products available, as well as a line of premium shoes for men and women. Founded in 1967 by renowned foot care specialist Dr. Wayman Spence, Spenco earns consumer trust in its products by focusing on superior customer service to distinguish itself in the outdoor, sports, foot care and medical markets. Learn more about Spenco products by visiting spenco.com or calling 1-800-877-3626.
# # #