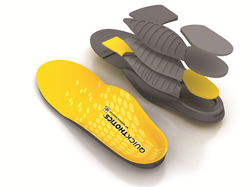 Patients get immediate, cost-effective foot orthotic therapy delivered chair-side, and doctors get lower laboratory bills.
Waco, Texas (PRWEB) July 16, 2014
When patients present with foot pain, they usually want immediate relief. Thanks to Spenco, the most trusted name in insoles, doctors can now make a diagnosis and dispense high-quality, durable prescription orthotics in their offices in less than 10 minutes.
The company's new Quickthotics® Component Insole System offers economical, easily customized orthotic insoles to address the mechanical etiologies of common lower-limb pathologies.
"Patients get immediate, cost-effective foot orthotic therapy delivered chair-side, and doctors get lower laboratory bills," said Dr. Ray Anthony, a podiatrist and Spenco Medical Corporation medical consultant. "This product is a win-win for patients and doctors alike."
The Quickthotics insoles incorporate Total Support® Technology, which means even without customization, they may be effective in the management of lower-limb conditions. For those with more specialized needs, the insoles also come with die-cut, self-adhesive varus heel and valgus forefoot wedges; interchangeable arch supports; heel lifts; and removable plugs to incorporate first metatarsal cut-outs and calcaneal dells (heel impressions).
A 30-page prescription guideline booklet includes a recommended five-minute biomechanical examination procedure. It also provides an evidence-based approach to using the product in the orthotic management of common foot and leg musculoskeletal pathologies.
There's no need for glue or a grinding machine. With Quickthotics, a medical office only needs a pair of scissors to fabricate and dispense prescription insoles.
"A doctor has total control over the prescriptions, and adjustments take only seconds at follow-up appointments," Anthony said. "Best of all, the Quickthotics product was designed by Spenco — a name you know you can trust for top-quality foot health care products."
Designed to be modified by a medical professional, Quickthotics are only available in physicians' offices.
Spenco Medical Corporation
Spenco, a leading producer of high quality insoles and foot care products, helps people everywhere achieve its motto of Love Your FeetTM. Based in Waco, Texas, Spenco provides the most advanced sports medicine and first aid products available, as well as a line of premium shoes for men and women. Founded in 1967 by renowned foot care specialist Dr. Wayman Spence, Spenco earns consumer trust in its products by focusing on superior customer service to distinguish itself in the outdoor, sports, foot care and medical markets. Spenco Total SupportTM Insoles carry the American Podiatric Medical Association seal of acceptance. Learn more about Spenco products by visiting spenco.com or calling 800-877-3626.