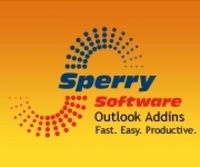 "Love the attachment reminder program!" - Deanna Rider, Practice Management Analyst
Jacksonville, FL (PRWEB) February 9, 2011
Sperry Software is announcing that Attachment Forget-Me-Not add-in for Outlook, version 4.0 is now out of beta.
Attachment Forget-Me-Not is a software tool for Microsoft Outlook that causes a prompt to occur whenever an attachment is detected as missing from the email. This gives the sender a chance to attach the file to the outgoing email.
In addition, the add-in can detect if the email is being sent with a blank subject. In addition to annoying recipients, many mail clients reject emails received with no subject or put those emails into Junk Folders.
The version being released today works with Microsoft Outlook 2010, both 32-bit and 64-bit versions.
It has successfully passed Sperry Software's own rigorous testing and had been in beta for 90 days prior to today's release.
The Attachment Forget-Me-Not add-in is one of over 35 add-ins from Sperry Software.
It requires Microsoft Office Outlook 2000, 2002, 2003, or 2007 and costs $19.95 (USD) per module. Multi-user, site license, and enterprise license discounts are available. For more information, contact Sperry Software, Inc., 12443 San Jose Blvd, Ste 503, Jacksonville, FL 32223. Phone: (904) 343-7408 Email: info@SperrySoftware.com Internet: http://www.SperrySoftware.com/.
About Sperry Software:
 
Since 1998, Sperry Software has been developing and marketing add-in solutions for Microsoft Outlook. In addition to the add-ins described in the press release, Sperry also offers Send Individually, an add-in that allows you to send an email or newsletter to one person at a time; Safeguard Send, an add-in that prompts users when confidential information is being sent in email; Vcard Converter, a module that imports and exports contacts into vcard format; and more than two dozen additional Outlook add-in solutions. They are all described on http://www.SperrySoftware.com/.
###