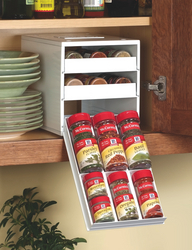 Cooking at home should be fun -- not an endless search for ingredients. Traditional spice racks take up too much space, are difficult to organize and don't allow you to choose your own spices. We invented the SpiceStack to solve all of these problems
Arlington Heights, IL (PRWEB) October 29, 2008
You can now organize and find your favorite store-bought spices quickly and easily with the new SpiceStack spice rack.
SpiceStack's space-saving design stores spice bottles horizontally in your kitchen cabinet away from light and heat that rob flavor from spices. Its patented drop-down drawers make spices easy to find and reach from any height. To use, simply slide a drawer out until it's fully extended, then lower the drawer to resting position where spice labels face out for quick retrieval while cooking. SpiceStack holds up to 18 full-size or 36 half-size round spice bottles. Multiple units can be stacked on top of each other or placed side-by-side -- especially great for cooks with large spice collections.
"Cooking at home should be fun -- not an endless search for ingredients. Traditional spice racks take up too much space, are difficult to organize and don't allow you to choose your own spices. We invented the SpiceStack to solve all of these problems," said Lauren Greenwood, president of SpiceStack, Inc.
Customers who bought the original SpiceStack spice organizer suggested there be a way to label the drawers for even faster spice finding. The new and improved SpiceStack now includes a sheet of 48 pre-printed and 48 blank labels for placement on the outside of each drawer to identify its contents. Spices can be stored alphabetically, by frequency of use or by type of cooking.
The sleek and sturdy unit, which measures 8 inches wide, 10.75 inches deep and 8.5 inches tall, comes in white to complement any kitchen décor. Four non-skid pads on the bottom of the unit hold it securely in place inside the kitchen cabinet. SpiceStack requires no assembly and is made of durable plastic.
SpiceStack is designed and manufactured in the United States. Cost is $24.95 with FREE shipping and handling (S&H charges apply to Alaska, Hawaii and Canada). Additional units are $19.95 (limit of three). To order online, visit SpiceStack.com. Or send a check for $24.95 per unit to SpiceStack Inc., 524 S. Patton Ave., Arlington Heights, IL 60005.
Note to Editors: For high-res images or a product sample, email lauren@spicestack.com. For downloadable press releases and photos pertaining to this client, please visit GreenMark Public Relations.
###