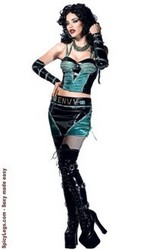 This year Halloween falls on Friday. This makes it a sure thing that there would be some really spicy late night parties. So here's your chance to leave everyone simply spellbound
Los Angeles, CA (PRWEB) September 25, 2008
Award winning online store Spicylegs.com today announced the launch of its huge collection of adult costumes for this holiday season. It is probably the first time that a store has put online a collection of over 6,000 adult costumes distributed over 50 categories to simplify the overall user experience.
"Our aim at SpicyLegs.com was to classify costumes according to themes & categories that visitors could identify with and would make it easy for them to find their favorite costume in the least possible time," says the owner of SpicyLegs.com, Ankush Aggarwal.
The site has pioneered a simple but powerful costume & lingerie search engine that integrates Google Base™ API into the ASPDotNetStorefront™ Platform. It lets visitors search for products based on name, description, color, style, size and many other parameters. It even assists the user by suggesting synonyms and by Google's spell correction features. So brilliant are the site's features that it has been listed as a portfolio site on ASPDotNetStorefront.com.
The site also features a state of the art and intelligent "product recommendation" system that suggests "You may also like" costume recommendations. When one views the Shrek Costume, the system will not only show them Fiona, but even the Gingerbread-man, along with various masks and props from the same movie. This extricates the customer from monotonous searching of the website for one particular theme. Going beyond, the site suggests character costumes from other movies and also other costumes that are good for couples.
To cater to the ever growing international market for American products, SpicyLegs.com has partnered with iShopUSA to make available its complete line of costume and lingerie products to international customers wanting to own the product out of US. Customers from anywhere in the world can now order costumes in their own currency and they will be assured a timely delivery right at their doorstep.
Every October Americans all over the world get all pumped up to celebrate Halloween -- one of America's most favorite holidays. And every year people have a tough time getting their hands on a costume they want -- maybe because their store does not have the latest costumes, or perhaps they don't have them in the correct size. Maybe their favorite ones are all sold out or perhaps one of the biggest reasons -- they are too expensive.
SpicyLegs.com, with its huge collection of adult costumes for both men and women, popular brands (like Leg Avenue™, Disguise Inc. ™, Playboy™, etc.) and with discounts of up to 40% off retail, is quickly and preponderantly emerging as a leading player in Halloween costume retail.
"This year Halloween falls on Friday. This makes it a sure thing that there would be some really spicy late night parties. So here's your chance to leave everyone simply spellbound," says the site owner.
"This is one futuristic store that is already creating history. Although we get orders all year around, Halloween is one of the busiest times for us, and smiles on the faces of our customers are our greatest treats," says Garurav, Marketing Head for Spicylegs.com
Seems like this regnant online store is sure to add a little spice to your life this Holiday Season.
# # #