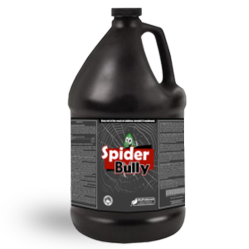 Being safe and effective...Spider Bully is more beneficial than any other spider spray.
Chicago, IL (PRWEB) June 04, 2013
A new spider spray is now available for purchase. The reason is that My Cleaning Products recently introduced to the public its spray for spiders that offers safe and effective elimination of the arachnids in houses.
The company shared the details about the said spider spray in its latest post. According to it, the product is called Spider Bully.
Unlike the conventional solutions to kill house spiders, MCP stated that Spider Bully is a non-pesticide. That's because it does not contain the strong chemicals common in pesticides, it explained. However, it cleared that it is effective just as pest-control companies, hotels and hospitals that had been using it had proven.
Because of the absence of chemicals, the company assured that the said spray for spiders is also safe. In fact, it relayed that EPA already classified it as pesticide-exempt under FIFRA 25(b).
Being safe and effective, My Cleaning Products asserted that Spider Bully is more beneficial than any other spider spray. And to emphasize that, it enumerated the product's benefits in the same post.
Particularly, the company detailed that the organic-based solution offers: quick and easy way to eliminate house spiders, odorless process, no-evacuation elimination and pet-safe solution.
In addition, it stated that Spider Bully doubles as a spider deterrent. And with that, it said that the use of it also saves money given that one doesn't need to buy another spider spray to prevent the arachnid's return.
And so, considering all of its benefits, My Cleaning Products said that Spider Bully is truly the best help anyone could get to eliminate spiders in houses. It highly recommended its use to the public and encouraged them to order it this month for a 10% price-cut.
Spider Bully, the company stated, is available at its official website at MyCleaningProducts.com. And as it instructed, to get the discount, buyers just need to enter the coupon code "PR10" at checkout.