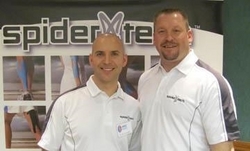 I think it's cool for athletes or people here (in Montrose) who use it to see it's the same thing pro athletes are using
Montrose (PRWEB) May 1, 2010
If NFL insiders never heard of Montrose before, then one local put the town on the map for them at this year's NFL Combine. Darin Dunnagan, a local chiropractor and assistant football coach at Montrose High School, attended the Combine in Indianapolis over the weekend to help Dr. Kevin Jardine demonstrate his SpiderTech invention, impressing several NFL team doctors.
The Combine is a six-day annual event in which draft prospects participate in a series of activities to give NFL team owners, coaches and others a better look at players they could draft. It ended Tuesday.
SpiderTech is a pre-cut, packaged stretchy tape designed to quickly heal injuries and improve athletic performance. Rather than immobilize a limb or other body parts by wrapping it with cloth bandages, SpiderTech allows continued movement and flexibility. The stimulation caused by the tape reduces inflammation and discomfort, and it facilitates blood flow to speed healing.
Dunnagan, the only certified SpiderTech instructor and therapist in Colorado, has used the product on several Montrose High athletes, including state wrestling champ Jordan Passehl, basketball star Hanna Bowden and baseball/football player Glayden Berry.
They're in good company. Indianapolis Colts defensive end Dwight Freeney wore SpiderTech while playing in last month's Spider Bowl, and New York Jets quarterback Mark Sanchez used it throughout the past NFL season.
"I think it's cool for athletes or people here (in Montrose) who use it to see it's the same thing pro athletes are using," Dunnagan said. "It has been exciting for me to use SpidertTech on some of our local athletes and see them do well. Jordan (Passehl) used it and won a state wrestling championship. Hanna (Bowden) and Glayden (Berry) used it and have gone out and played great games. That's exiting to me."
Dunnagan and Jardine became friends after the coach e-mailed the inventor last year, asking to learn more about SpiderTech. Now the two travel the world, demonstrating the product, a health aid that Dunnagan "loves".
"It's a constant therapy," he said, "It provides support and allows someone to have a range of motion, instead of being completely held back by a sling. Nine NFL teams now use the product, but doctors for other NFL teams at the Combine said they will start using it too". NBA, MLB and Mixed Martial Arts athletes also use SpiderTech."
Dunnagan said he and Jardine established several good contacts on their trip. But they couldn't deal directly with the athletes because the "media circus" made it impossible to get near the field.
Now the U.S. Bobsled Team, which recently won the gold medal at the 2010 Winter Olympics in Vancouver, British Columbia, Canada, has expressed interest in SpiderTech, and Jardine has invited Dunnagan to help him demonstrate the product to that team.
Dunnagan said the team will take him on a bobsled test run. The date has not been set. As for the Combine, he said Wednesday, "It was exiting to go out and talk about something I know and love and take it to the next level."
# # #