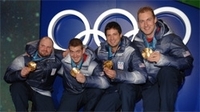 We're ecstatic for this team, our team, to win this gold medal in Vancouver, and we're looking forward to working with them in 2011, to help where we can in keeping them on the podium next year
(PRWEB) March 5, 2010
The Night Train, the World Champion USA1 4-man Bobsled team, steamed to new heights this weekend, taking the Olympic Gold Medal at the 2010 Vancouver Winter Olympics, bringing SpiderTech, sponsor and supplier to the team, along for the ride.
The Night Train crew entered the finals with a lead of 0.40 seconds in a sport measured to the hundredth of a second. Holcomb and his team powered off the blocks in 4.77 seconds and slid across the finish with the fastest time of the third heat, 51.19 seconds, to maintain their lead going into the final run.
"It was anxiousness," said Mesler about the wait between heats. "We were dying to do it 'cause we knew it was there. We knew it was going to happen, so we just wanted to get it over with."
Team Holcomb pushed off the block in 4.76 seconds for a run of 51.52 seconds, third best of the final heat, and was greeted by a deafening roar from the stands as their named appeared at the top of the standings. The Night Train team threw their hands into the air in celebration before greeting family and friends with hugs by the side of the track.
"It's a real case of mixed emotions", said Bill Payne, VP Marketing for SpiderTech, a Toronto-based company. "We're ecstatic for this team, our team, to win this gold medal in Vancouver, and we're looking forward to working with them in 2011, to help where we can in keeping them on the podium next year."
USBSF and NUCAP signed a two-year arrangement, and Payne added that his team of physicians look forward to working with the U.S. bobsled and skeleton athletes during critical off season training.
"This is more than a sponsorship," said USBSF CEO Darrin Steele. "We are integrating NUCAP Medical's technology and insight into sports performance beginning with the run- up and through the Vancouver Games. With the type of training our athletes do, NUCAP's medical breakthroughs will undoubtedly create a competitive advantage both on the field and in recuperation."
SpiderTech is known for patented "pre-cut kinesiology tape applications" that provide advanced therapeutic and competitive support for all level of athletes, from Olympic-class to armchair. Kinesiology tape was made famous by American and Olympic gold medalist Keri Walsh when she wore it for an ailing shoulder during the 2008 Beijing Games. SpiderTech advances that technology by pre-engineering the designs and therapeutic methodology for their use. SpiderTech has found its way onto athletes in many sports, aiding athletes in healing as well as support during competition.
U.S. Bobsled and Skeleton teams, with a phenomenal 2010 season topped by an outstanding Olympic games, are now looking at climbing higher in the 2011 season. The SpiderTech product will be used by all athletes needing support on and off the field of play, and NUCAP doctors are working with federation doctors on various applications.
About NUCAP Medical
NUCAP MEDICAL formed last year as a division of the Toronto, Ontario-based NUCAP Industries, Inc. (http://www.nucap.com), is focused on the creation of inventive and effective functional medical products designed to address pain management and myofascial dysfunction through the use of specialized elastic tape applications known as SpiderTech, which is offered in sixteen ready-to-apply taping solutions known as Spiders and in rolls of Nitto-Denko-developed kinesiology tape under the brand name SpiderTape in the North American marketplace (NAFTA zone). The SpiderTech line of products was created by Dr. Kevin Jardine, a chiropractor and advisor to numerous professional cyclists, runners, triathletes, volleyball players and sports teams. Distributed by NUCAP, SpiderTech and SpiderTape are made of the original kinesiology tape that was engineered by Nitto-Denko of Japan to mimic the thickness, weight and elasticity of human skin. Through clinical feedback from therapists and patients, and driven by a passionate commitment to excellence and innovation, SpiderTech is the pioneer in pre-engineered kinesiology taping solutions.
About the U.S. Bobsled and Skeleton Federation
The United States Bobsled and Skeleton Federation, based in Lake Placid, N.Y., is the national governing body for the sports of bobsled and skeleton in the United States. The USBSF would like to thank its sponsors, suppliers and contributors for their support: Allianz Life, Under Armour, Vilter Manufacturing, Kampgrounds of America, 776 Original Marketing, KBC Helmets, Luminox Watch Company, NUCAP Medical, EDAS/Ripxx and Ferris Mfg. Corp. In addition, the USBSF supports the following charitable causes: American Cancer Society, Autism Speaks, National Breast Cancer Foundation, Leukemia & Lymphoma Society, Make-A-Wish Foundation, Muscular Dystrophy Association and Seattle Children's Hospital. The USBSF would also like to thank the following sponsors and suppliers for their partner, the Bo-Dyn Bobsled Project: Whelen Engineering, PPG, Columbia Sportswear, JEGS Automotive, Lucas Oil, Mac Tools, EXA, Lumber Liquidators, ServiceMaster Clean, National Guard, Lincoln Electric and Racing Electronics. For more information, please visit the USBSF website at http://bobsled.teamusa.org.
# # #