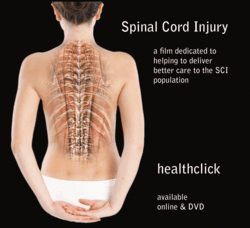 Approximately six million people in the United States are living with paralysis.
Franklin, TN (PRWEB) April 29, 2013
North American Seminars sought out the top rehab professional in the United States while researching the topic of spinal cord rehab. With 6 million people or approximately 1 in 50 people living with some sort of paralysis we knew that this issue effects almost every American in some way. Selina Morgan PT, ATP delivers not only current evidence based evaluation and treatment techniques for Spinal Cord Injury, but an overwhelming compassion for this population. Filming two young adults with paralysis conveys the difficulty, challenges and rewards of working with this population. This film is a unique physical therapy continuing education program featuring a paraplegic and a quadriplegic performing specific rehab activities. As a PT continuing education online course, North American Seminars applied the content in the film to evidence based clinical information. This online continuing education course for PT and OT discusses the following areas of Spinal Cord Rehab:

Quadriplegic assessment
Dependent transfer with feet on floor
Dependent transfer with full lift
Infant transfer
Infant collar, TLSO
Quadriplegic Mobility, transfers with board
Mat to mat transfer
Transfer to wheelchair with board
Paraplegic transfer with sliding board
Transfer, pivot without sliding board
Transfer, prone push
Transfer, roll out
Wheelchair transfer floor to chair
Transfer, feet first
Transfer from mat using knee to chest for bed mobility
Quadriplegic mobility, long sitting
Quadriplegic mobility, quadruped
Prone on elbow shifting
Quadriplegic mobility, long sit to prone
Come to sit and the UE platform
Long to short sit with leg management
Bed mobility prone to supine
Paraplegia, transfer to mat
Long leg braces and weight bearing
Come to stand with forearm crutches
Sit<>stand and the standing position
Prone push to stand
Gait with rolling walker sit to stand
Quadriplegic gait training
Supine too long too short sitting
Scooting hip head relationship
Introduction of the lower extremity powder board testing
Powder board strength assessment of dorsi and plantar flexion
Powder board, hip abduction
Powder board, hip adduction
Powder board with and without skate, hip flexion
Powder board, skate, knee extension
Powder board no skate, knee extension
Powder board, hamstring exam, trace
Fatigue in weak muscle groups
Wheelchair selection and hip width
Wheelchair configuration, frame dump
Wheelchair patient measurements
Achieving the best pelvic position in a wheelchair
Frame dump measurements, pelvic position and arc over rail
Wheelchair tire and caster options
Wheelchair configuration, key measurements
Camber and overall width of wheelchair
Wheelchair features and dis-assembly.
In addition, extensive instruction in the continuing education online course for PT and OT discusses Manual Muscle Testing including:
ASIA A & B
ASIA C & D
ASIA E defined
ASIA sensory exam, pin prick
ASIA sensory exam, pin prick grading
ASIA sensory exam, light touch
ASIA, sensory exam S4-5
Defining complete and ZPP
ASIA functional motor level
Sensory motor relationship
ASIA C5, all grades
ASIA C6, all grades
ASIA C7, all grades
ASIA C8, all grade
ASIA T1
ASIA T1 quadriplegic involvement
ASIA test, gravity eliminated test position for the hip flexion testing
ASIA L2, grades 0,1,2
ASIA L2, grades 3,4,5
ASIA L3, grades 0,1,2
ASIA L3, grades 3,4,5
ASIA L4
ASIA L4 grade 3
ASIA L4 grades 4, 5
ASIA L5, all grades
ASIA S1, grades 0,1,2
ASIA S1, grade 3
ASIA S1, grade 4, 5
Interaction of muscle groups
Approved online continuing education for PT and PTA
This course meets the continuing education requirements for physical therapists in the States of California, Illinois, New York, Alaska, Colorado, Connecticut, Idaho, Indiana, Massachusetts, Missouri, Montana, New Hampshire, North Carolina, Oregon, Rhode Island, Utah, Vermont, Virginia, Washington and Wisconsin.
Approved online continuing education for Occupational Therapists
North American Seminars, Inc. is an AOTA provider for continuing education, provider #4487. The AOTA does not endorse specific course content, products or clinical procedures. The Alaska, Arkansas, Delaware, District of Columbia, Illinois, Indiana, Kentucky, Louisiana, Maryland, Minnesota, Mississippi, Missouri, Montana, Nevada, New Hampshire, North Carolina, Ohio, Oregon, Oklahoma, Rhode Island, South Carolina, Tennessee, Texas, Vermont and Virginia occupational therapy regulatory boards accept courses presented by AOTA providers to meet the needs of OT continuing educational requirements.
For more information visit http://www.healthclick.com/Courses/nas210.php. North American Seminars supports Responsible CME. Live hands on training supplemented by online and software based courses provides an exceptional learning experience. Online training is not a replacement for a live course. For a comprehensive list of live spinal cord injury courses visit http://www.healthclick.com.