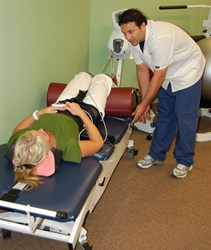 I can say [after the treatment], that for the first time in 5 years I am without back pain or leg pain. For the first time in a long time I was able to go to the movies with my wife. (…) Thanks again from giving me my life back!
North Olmsted, OH (PRWEB) April 25, 2013
Dreas Healthcare, a multi-disciplinary facility experienced in performing spinal decompression therapy in Ohio, announced the practice has had significant success using this type of non-surgical treatment for pain management and correcting disc injuries. Founder of the popular chiropractic clinic in the Cleveland area and head of a staff comprised of highly qualified doctors, physical therapists, and massage therapists, Dr. Steven Papandreas says the treatment is most popular with patients who need real back pain relief. Those patients are likely to be considering surgery, currently taking medication, or suffering from Sciatica (leg or arm pain, weakness, and numbness).
In 2012, NBC reported that every year, 600,000 Americans undergo spine surgery – but even more feel back pain. In fact, they said between 80 and 90 percent of Americans experience some form of debilitating back pain in their lifetime.
Another study in the journal Spine shows that in many cases back surgery can actually backfire, leaving patients in more pain. In addition, the study showed that surgery increases their use of painkillers by 41 percent, specifically opiates, which leads to overall physical, mental and social distress.
According to the American Chiropractic Association (ACA), people with chronic pain suffer dramatic changes in their well-being, and, therefore, their quality of life suffers. Such people often find it difficult to sleep, are easily agitated, cannot perform their normal tasks of daily living, cannot concentrate, and are often unable to execute their duties at work. These issues create a dangerous cycle—pain leads to more depression, which leads to more chronic pain. The ACA verifies that depression is the most common emotion associated with chronic pain, with signs of depression being identified 3 to 4 times more often in people with chronic pain than in the general population.
In light of that, Dr. Papandreas introduces his unique and successful techniques in non-surgical Spinal Decompression Therapy, saying, "This is a revolutionary new technology used primarily to treat disc injuries and the origin of pain. The treatment is very safe and utilizes FDA cleared equipment to apply distraction forces to spinal structures in a precise and graduated manner." He continues, "This non-intrusive therapy is highly effective and unlike traditional pain medication or surgery, it presents no health risks to the patient. We address the underlying root cause of the problem and work towards correcting the origin of pain - the disc injury."
In his view, since surgery only carries a 50 percent chance of success in fully relieving the patient of all pain, and can also lead to infections as well as unforeseen effects from anesthesia, solutions such as Spinal Decompression Therapy must first be entertained as superior options. "In our clinic, 87 percent of patients that completed their non-surgical spinal decompression treatment are pain-free, reporting a feeling of renewed 'happiness'; 100 percent are medically able and highly motivated to regain the normality of their lives."
David Blake, one of Dr. Papandreas' patients, says "I was taking Tylenol for years due to severe low back pain and leg pain. I went to every specialist, received painful shots into my back, did therapy - nothing seemed to work (…) I can say [after the treatment], that for the first time in 5 years I am without back pain or leg pain. For the first time in a long time I was able to go to the movies with my wife. (…) Thanks again from giving me my life back!"
But another essential topic is the out-of-pocket expenses involved in undergoing back surgery. "The costs and battles fought against limited insurance coverage for that type of surgery are constantly adding to the pain and emotional distress patients are already going through," says Samantha J. McAusland, Director of Patient Relations at Dreas Healthcare. "Most of our patients receive full coverage from their insurance, since we accept all of them, including Medicare and Medicaid." Ms. Samantha J. McAusland also informs that the first visit is free, including chiropractic examination, first set of X-rays, non-surgical spinal decompression exam, insurance benefits check and a water pillow valued at $60 – given as a gift to new patients. She advises the clinic also has a money-back guarantee policy, which shows the clinic warrants the quality of their work.
"We also offer a free insurance benefits check before initiating treatment, so patients are comfortable, knowing exactly what their costs are, right up front. And if they do not have insurance, our internal programs make it possible for anyone to take the initiative and get well, for good." More information about Dreas Healthcare programs and therapies can be found at http://www.DREASHealthcare.com.
About Dreas Healthcare
Dreas Healthcare is where Physical Therapy and Chiropractic combine forces to give patients the most comprehensive care for their condition, with a personalized touch. Clinic Director, Dr. Steven Papandreas, is a member of the Ohio Chiropractic Association, Licensed in Ohio and Great Britain, and has vast expertise in non-surgical Spinal Decompression Therapy, consistently performing an average of 10 treatments per day, for the last 10 years.
The multi-disciplinary clinic has over 90 years of combined experience, and offers wide range of therapy options. Services include: chiropractic, isometric stretching, massage, deep tissue therapy, electric stimulation, ultrasound, traction, non-surgical decompression, physical therapy, and closed-circuit training with Nautilis equipment. The clinic is also equipped with on-site x-ray capability, Zero Gravity Massage chairs, and Pro Vibe.
Dr. Steven Papandreas' proficiency has secured partnerships with the Cleveland Clinic, The Cleveland Browns team, WWE talents, and the Scottish Rugby team, in Scotland, where he lived and worked for 13 years. Further information can also be obtained by directly calling the clinic, at 440-779-4226.