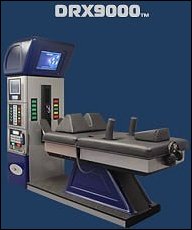 In the past, a patient suffering from disc problems usually was given pain medications, instructed to refrain from physical activities, referred for physical therapy, and when they weren't progressing, they were sent for spinal surgery
Sunnyvale, CA (PRWEB) December 12, 2006
Patients suffering from pain associated with Spinal Stenosis, Herniated Discs and other back ailments are being offered the latest treatment with DRX9000 spinal decompression technology at one of our Spinal Decompression Offices in the San Jose, California area. The DRX9000 was designed by a specialized team of engineers at Axiom Worldwide. The team, made up of top physicians and medical engineers, developed the DRX9000 to treat lower back pain and sciatica resulting from deteriorated or Herniated Discs. The DRX9000 not only significantly reduces back pain in over 85% of patients, but also enables the majority of patients to return to more active lifestyles.
"In the past, a patient suffering from disc problems usually was given pain medications, instructed to refrain from physical activities, referred for physical therapy, and when they weren't progressing, they were sent for spinal surgery," local Spinal Decompression Professional. "Conservative chiropractic care proved very helpful in many cases, yet there have been some cases when surgery seemed to be the only other option, until now."
Our commitment to offering the highest quality of care resulted in the addition of the FDA cleared DRX9000 spinal decompression technology for the treatment of back pain due to:
Bulging Discs
Degenerative Disc Disease
A relapse or failure following surgery
The DRX9000 is a non-surgical, non-invasive procedure that relieves pressure on the spine. Disc space is enlarged, herniation is reduced and outer ligaments are strengthened. Patients describe this feeling as a gentle pulling of the spine. For patients suffering from chronic back pain from Spinal Stenosis, Herniated Discs and other back problems, relief is available through our DRX9000 spinal decompression therapy.
About our local Professionals:
Spinal Decompression Referrals serves patients in the San Jose, Sunnyvale, Cupertino, Los Altos, Santa Clara, Mountain View and Saratoga areas. To schedule an initial consultation to determine if you are a candidate for care with the DRX9000, please contact our office at (408) 689-2724 . After carefully studying your case history and exam findings, a Spinal Decompression Professional will sit down and explain his recommended plan of action for you. We will also be happy to find the closest DRX9000 office in your area.
Contact:
Michael Buser
(408) 689-2724
http://www.SpinalDecompressionReferrals.com
###