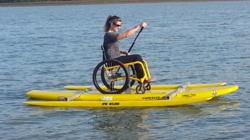 Seldom in my life have I been so inspired, thank you Project Walk.
Carlsbad, CA (PRWEB) April 04, 2013
Project Walk Spinal Cord Injury Recovery Center and Carlsbad Surf Adventures is proud to announce the first adaptive paddleboard program for people affected by paralysis. The goal of many Project Walk clients is to participate in activities of their previous life, before a spinal cord injury. On April 6, 2013 they will have this opportunity at the Bayshore Beach in Carlsbad, Ca. This is where individuals affected by paralysis will take their place on an adaptive paddleboard and tell the world and themselves that anything is possible. This event is possible because of some amazing Carlsbad business owners and some courageous Project Walk clients.
One of those clients is Ke Dime. Ke's life changed dramatically when he suffered a T12/ L1 spinal cord injury due to a parachute malfunction. Ke has been with Project Walk since July, 2012 and was eager to jump at the chance to be the first rider of the adaptive paddleboard. The paddleboard was the dream of local Carlsbad business man Kawika Watt. Kawika, Carlsbad Surf Adventures, and Scott Chandler created a prototype adaptive paddleboard and in working with Project Walk have prepared to launch this program this Saturday at 10:00am from the Bayshore Beach, Agua Hedionda Lagoon.
Ke along with fellow Project Walk clients, Alex Bedard and Charles Webb will paddle out alongside riders and surfers. The welcoming committee for Ke, Alex and Charles will include Carlsbad Mayor Matt Hall and Project Walk Co-Founder Eric Harness. Kawika cannot wait for this amazing event, "Seldom in my life have I been so inspired thank you Project Walk." Programs like this help to connect the Carlsbad community and provide wonderful opportunities for individuals affected by a spinal cord injury.