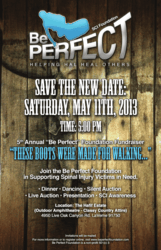 Claremont, CA (PRWEB) May 02, 2013
The Be Perfect Foundation presents "These Boots are Made for Walking" on May 11, 2013. This 5th Annual foundation event raises awareness and financial resources for individuals affected by spinal cord injury. This event, which has raised over a million dollars in its first four years, starts the night with a cocktail hour and silent auction, followed by dinner and an entertaining and inspirational program. This classy country evening culminates with an exciting live auction and this year, line dancing to live music. The event is held at the beautiful Hafif Estate in La Verne, California under the stars.
The foundation's goal is to support victims of spinal cord injury, with intentions of helping them financially with the basic necessities that come with spinal cord injury and namely attending activity-based recovery facilities like Project Walk. The foundation originated five and half years ago, shortly after Hal Hargrave sustained a life-threatening spinal injury that left him paralyzed from the neck down. Hal, sought out different ways and made efforts to try and make light of his situation and turn it into the best positive outcome as possible. His answers to his "why me" and "what if" questions came shortly thereafter. Upon attending Project Walk in Carlsbad, California just months after his injury, Hargrave met a man by the name of Brian O'Neill who is suffering from the devastating injury himself. After O'Neill told Hargrave of the basic struggle his family was dealing with to afford the cost of therapy and just to put food on his table, Hargrave knew he needed to do something and recognized his calling to help others. Five and half years later, the foundation has grown to extraordinary heights where they are approaching raising the $2 million mark in just a short amount of time. They have been able to keep close to 100 clients in therapy, purchase 30 wheelchairs, adapt several homes and cars, but most importantly, provide a resource for those in need after spinal cord injury. However, it didn't just stop there, Hal and his family have just recently opened the first ever Project Walk franchise in their hometown of Claremont, California at the Claremont Club where they have been longstanding members.
The Claremont Club has been a huge supporter of Hal and The Be Perfect Foundation. This location will not only service the Inland Empire area for spinal cord injuries but will also act as a resource for those suffering in the area as the foundation will support and underwrite several of the clients who attend the facility.
The foundation's 5th Annual event will provide ongoing support throughout the year until the next event comes. Spinal cord injury is not just an emotionally and mentally effective injury, but also a very financially draining injury to a family. The foundation has recognized that even after the amount of people that they have helped, the need is still great. Ongoing support and fundraising is huge to ensure the foundation can be around for years to come and help many more. At the previous event, Be Perfect raised over $425,000 with a crowd of over 1000 people attending that event. Needless to say, this is not your typical gala type event. It's inspirational, impactful, powerful, and something that will change your perceptions forever. This year the foundation will feature ebooks, another online visibility tool. This event is open to the public, but will most definitely sell out at 1000 attendees. Be Perfect continues to build awareness from the event and has people coming back year after year.