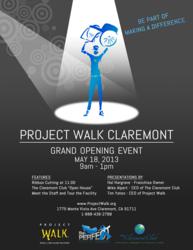 When you look around, there isn't a single client in their wheelchair. This place is simply amazing"
Claremont, CA (PRWEB) May 09, 2013
Project Walk Spinal Cord Injury Recovery Center announces the grand opening of their first franchised center located in Claremont, CA. Project Walk provides activity-based recovery programs designed around industry leading research while utilizing state-of-the-art equipment to increase mobility in clients who have a spinal cord injury. This event will take place on May 18th from 9:00 – 1:00 and in conjunction with an open house for The Claremont Club, a world-class athletic, fitness and wellness center.
"We feel honored to have the Hargrave family as our first franchise owners," says Brian Malkinson, Director of Licensing and Certification, Project Walk SCI Recovery Center. "They are going to continue to do amazing things for the Southern California community and those living with a spinal cord injury."
The franchise is owned and operated by 23 year old Hal Hargrave Jr. On July 26, 2007, he was involved in a rollover truck accident that left him quadriplegic and paralyzed from the neck down. Inspired by his own injury and the financial struggles that followed, he started the non-profit organization, The Be Perfect Foundation. After raising $1.7 million in four years, Hal was able to continue his dream of helping others who have gone through and are currently going through similar situations.
"It is a dream come true to be opening this center," explains Hargrave. "It is a true reflection of the hard work that the foundation has done, along with the amazing support of the community of Claremont that makes this dream possible."
Hargrave was able to continue his passion to encourage and help others by announcing the opening of the first Project Walk franchise on the grounds of the Claremont Club, 1777 Monte Vista Avenue in Claremont, CA. Hargrave thanks Mike Alpert, CEO of The Claremont Club and his staff for their role in supporting the project and continuing to be the catalyst of making Hargrave's dreams come true. Hargrave grew up working out at the Claremont Club, even achieving his childhood dream of bench pressing 315 pounds at that facility. He now returns to that site fulfilling yet another dream of bringing Project Walk to his hometown.
The Claremont location will be the first of its kind to integrate activity-based recovery into an existing health club. This will also be the first Project Walk location, beyond its headquarters, to offer body-weight supported treadmill training for clients who were told they would never walk again. The overwhelming community support from groups like The Be Perfect Foundation and The Claremont Club have been key to the growth of Project Walk's activity-based recovery programs throughout the world. Spinal cord injuries affect more than 1 million US citizens and the need for aggressive, alternate forms of recovery are key to promoting independence and improving their quality of life.