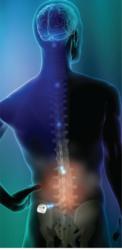 Arizona Pain offers spinal cord stimulator implants with the newest ones helping over 80% of patients achieve excellent results.
Phoenix, AZ (PRWEB) May 11, 2012
The best Arizona pain doctors, Arizona Pain Specialists, are now offering spinal cord stimulator implants at all of their locations throughout the Phoenix metropolitan area. These pain management treatments may help patients with chronic neck, back or extremity pain who are living with significant suffering and have no further surgical options. New patients are being scheduled at (602) 507-6550.
Spinal cord stimulator implants have the potential to change the way a patient's brain perceives pain signals, essentially trading pain for a tingling sensation. When a patient is in significant pain and suffering with no surgical options available, treatments may include narcotic medications, physical rehabilitation, chiropractic treatment and acupuncture, spinal decompression therapy, interventional treatments, and spinal cord stimulators.
The chiropractors and Double Board Certified Arizona pain management doctors at Arizona Pain Specialists provide all of these treatments as a comprehensive pain center. Arizona Pain Specialists offers all of these options with Award Winning, Board Certified pain doctors and Scottsdale chiropractors. Arizona Pain Specialists offers these treatments at all locations serving the greater Phoenix metropolitan area along with Chandler, Glendale, Scottsdale, Mesa, Tempe, and more.
Chronic pain in United States affects over 115 million Americans, which is over 30% of the US, according to an Institute of Medicine report from last year. The best Arizona pain clinic in the state, Arizona Pain Specialists, performs the spinal cord stimulator trial implants at all of its locations. Along with this, Arizona Pain is one of the few pain clinics in the US to be offering stem cell injections as part of an FDA clinical trial evaluating stem cell injections for low back pain due to degenerative disc disease.
"Arizona Pain offers spinal cord stimulator implants to patients who have no other options - it's their last resort. An individual may have failed surgery, post-herpetic neuralgia, RSD, and the pain may be unbearable. The newest stimulator implants are helping over 80% achieve excellent results according to recent studies. What these doctors offer is hope with the implants - for patients to work, play with their kids, reduce narcotic needs. They are not easy to place, and Arizona Pain Specialists have done hundreds of them successfully" said David Greene, CEO of the Arizona Pain Network.
Those interested in exploring pain relief with a spinal cord stimulator should call 602-507-6550 to schedule an appointment today.