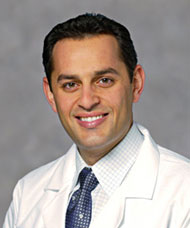 It is such a relief to finally be free of the excruciating pain. You have been a God send to me and I truly thank you with all my heart for caring about me the ay that you did. God Bless you.
Los Angeles, CA (PRWEB) May 05, 2011
Dr. Fardad Mobin, founder of http://www.spinesurgeonla.com has just launched his exciting website with a strong emphasis on interactive, educational video clips dedicated to demystifying many spinal disorders. The website is easy to use and highly informative, providing numerous testimonials from satisfied patients. He offers a video clip on the home page describing what he does and his goals for patients. The home page also includes an interactive display of the spinal system which is fun to use besides being highly useful.
Dr. Mobin's website lists the various conditions he can help correct, which include bulging and herniated discs, pinched nerves, bone spurs, spine tumors, spine stenosis and spine scoliosis. Among the procedures he describes in helping his patients live pain-free lives are outpatient neck and back surgery, herniated disc surgery, spinal decompression surgery, minimally invasive back surgery, neck surgery, microscopic decompression for lumbar stenosis and disc replacement surgery, although he uses non-surgical procedures as well. His use of minimally invasive, microscope-assisted surgical techniques greatly benefit his patients by resulting in less trauma, scarring and pain, allowing for more rapid recovery and return to a normal life.
Included on his website are photos and descriptions of his high tech surgical centers which provide the maximum in comfort, as well as highly trained and caring staff to ease the patient's journey through the system. These centers are located in Marina Del Rey, Santa Monica and Torrance. Another section of the site devoted to making entry into the system easier are his online appointment setting and forms sections that allow people to fill out the necessary paperwork from the comfort of their homes before coming to their first appointments.
As for Dr. Mobin himself, with over 2000 spinal surgeries to his credit and 15 years of experience, he is frequently called upon to assist other spine surgeons with difficult cases. His gentle operative techniques, wonderful bedside manner and compassion for his patients have made him a leader in the practice of neurosurgery. He completed his medical training with honors at the University of California, Davis, and his neurosurgical residency training at the University of California Medical Center in Sacramento, where he was elected chief resident and outstanding senior resident. Dr. Mobin continues to affiliate with UCDMC as a member of their clinical faculty.
###