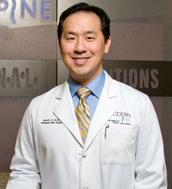 We are proud to work with such a fine orthopedic spine surgeon.
Houston, Texas (PRWEB) October 05, 2012
Spine Treatment Centers of America (Spine Treatment Centers) is pleased to announce that it will be working together with Dr. Kenneth Lee in Sugar Land, Texas. Spine Treatment Centers features leading orthopedic spine surgeons, neurosurgeons and interventional pain management specialists who provide neck and back pain sufferers convenient access to the customized diagnosis and treatment they need, with a focus on advanced minimally invasive surgical techniques.
Kenneth Lee, M.D., board certified by the American Board of Orthopaedic Surgery, operates near Houston, Texas with a goal of providing patients with state of the art treatment and medical technologies in the treatment of various spine conditions. Dr. Lee specializes in minimally invasive spine surgery for spinal deformity, degenerative disc disease, lumbar and cervical pathologies, spinal stenosis, osteoporosis and spondylolisthesis.
Dr. Lee's medical philosophy involves taking a conservative approach toward spinal treatment, and opting for surgical solutions when all non-surgical methods have failed.
Dr. Lee received his undergraduate Bachelor of Science degree in Biological Sciences from Duke University. He proceeded to earn his MD from the Duke University School of Medicine where he graduated with honors. His graduate medical education continued with a surgery internship and orthopedic surgery residency, both at the University of Pittsburgh Medical Center. He then completed a spine surgery fellowship at the University of California at Los Angeles Medical Center.
In addition to receiving numerous professional awards and media coverage, Dr. Lee has also published and presented various medical research projects. He was inspired to become an orthopedic surgeon by his passion for athletics - exemplified by his high school football experience as a linebacker on a championship team - and the relationship between anatomy, form and function.
"Dr. Lee's expertise in neck and back pain treatment give Sugar Land patients a valuable resource," said Sam Bailey, Ph.D., chairman of Spine Treatment Centers of America. "We are proud to work with such a fine orthopedic spine surgeon."
About Spine Treatment Centers of America
Spine Treatment Centers specializes in the exclusive SpinePath™ minimally invasive spine surgery approach to perform a wide range of diagnostic and corrective procedures performed by leading spine experts in state-of-the-art surgical facilities. Minimally invasive surgery has been shown to provide equivalent or better outcomes than open procedures, while reducing the cost, time and complications typically associated with spine surgery.
The SpinePath™ process guides the physician, working together with the patient, to formulate a customized treatment plan starting with the most conservative treatment that has the greatest chance of success. Each patient at Spine Treatment Centers of America receives the services of a professional Patient Advocate to guide them through their individual treatment process from start to finish.
Spine Treatment Centers is headquartered in Dallas. It has locations in Houston, Austin, San Antonio, Nashville, New Orleans, Hackensack and New York City and is expanding nationwide.
For more information about the advanced SpinePath™ approach for neck and back pain, or to learn more about our award-winning physicians, contact Spine Treatment Centers of America at (855) 831-4153 or visit spinetreatmentcenters.com.