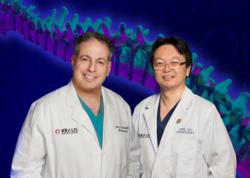 World Class Surgical and Non-Surgical Care of the Spine, Houston TX
Houston, TX (PRWEB) September 24, 2012
Masaki Oishi, M.D., Ph.D., a Neurosurgeon / Spine Surgery expert, offers world class spine care to the Houston community. " I look forward to providing the best possible spine care to the citizens of Houston and the surrounding communities" states Dr. Oishi, a highly accomplished neurosurgeon / spine surgery expert who joined the Kraus Back and Neck Institute in Houston, TX less than two months ago. "We are extremely fortunate to have Dr. Oishi join us," states Dr. Gary Kraus, founder of the institute. "Dr. Oishi is a wonderful addition, and the outstanding care he provides will be of great benefit to his patients in Houston."
Dr. Oishi completed a Spine Surgery Fellowship at the University of Pittsburgh Medical Center Department of Neurosurgery in 2003. Born in New York City, he attended Cornell University Medical College, completing his M.D. degree in 1996. Dr. Oishi received a Ph.D. in Molecular and Cellular Neuroscience from the Rockefeller University in New York. He received his Neurosurgery residency training at the Montefiore Medical Center / Albert Einstein College of Medicine in New York City. Dr. Oishi is Board Certified by the American Board of Neurological Surgery. He has been the recipient of the National Institutes of Health National Research Service Award. Dr. Oishi has practiced Neurosurgery in Texas since 2003. He is fluent in both English and Japanese.
"Providing the highest level of spine care in a kind and compassionate environment, is what I strive for with every patient." Dr. Oishi feels "while it is critical to have the technical expertise to treat complex neurosurgical problems, it is just as important to deliver this care in a manner which completely incorporates the patient's needs and goals, and treats the patient with great dignity, respect and compassion." This approach has earned Dr. Oishi his excellent reputation and patient satisfaction. Dr. Oishi specializes in both minimally invasive as well as traditional surgical approaches to the spine. He also has expertise in brain surgery, including the treatment of brain tumors, hemorrhages, and hydrocephalus.
Dr. Oishi practices spine surgery / neurosurgery in Houston, and is focusing on the patients of Katy, West Houston, Humble / Kingwood, and the Memorial City area. Consults can be scheduled through the Kraus Back and Neck Institute. Patients are advised to bring any existing imaging studies as well as other tests.
The Kraus Back and Neck Institute, founded 8 years ago, has the mission of providing the highest quality of spine care to patients in Houston and the surrounding areas. Treatment options include surgical as well as non surgical (physical medicine and epidural steroids) approaches. Individualized and personalized care, focusing on each patient's needs, remain at the core of each treatment decision.
Office consultations can be arranged by calling 281-44 NEURO (446-3876) or 281-870-9292.