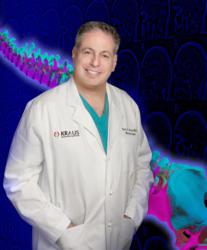 Gary Kraus, MD Honored Houston Top Doctor: Spine Surgery / Brain Surgery
Houston, TX (PRWEB) April 08, 2012
Gary Kraus, MD, FAANS, a Houston Spine Surgery and Brain Surgery Expert, has been honored by H Texas Magazine for the sixth consecutive year as a Top Doctor in Houston, Texas. Dr. Kraus treats a wide variety of brain and spine disorders, but has a special interest in non-surgical as well as surgical treatment of lower back pain and neck pain. He has produced several websites:
1) spinesurgery.com
2) spinehealth.com
3) neurosurgerypa.com
According to H Texas Magazine, Dr. Kraus states "Patients come to me with serious problems. They may have severe pain in the back or neck, brain tumors or other issues. This can be very frightening for them. Restoring their health and watching their progress is what I strive for. Helping a patient to achieve an excellent outcome is as rewarding to me now as it was the day I began practice."
Including his residency and fellowship training, Dr. Kraus has practiced neurosurgery for 26 years. Not only is he current on the latest technologies, but he is helping to advance the science with patents pending on minimally invasive devices for the spine. Although Dr. Kraus has significant surgical experience on the spine, having performed over 3500 minimally invasive and traditional surgical procedures, he also has expertise in the non-surgical treatment of back pain and neck pain. In addition, he not only has vast experience with traditional brain surgery, but he is also an expert in the minimally invasive treatment of brain disorders with Gamma Knife. Dr. Kraus started and directed a Gamma Knife program in Ohio in 1999, and has been director of a Gamma Knife Center in Houston for seven years.
Dr. Kraus feels that "with the advances of modern neurosurgery, including improved techniques, instrumentation and biologics, quicker and better healing may be achieved. Patients can often return home a couple of hours after an operation."
When asked what philosophical advice he would give to doctors just starting out in practice, Dr. Kraus suggests "treat every patient just as you would treat yourself or someone in your family. Never let anything interfere with your relationship with the patient. When you are in the exam room, or in the operating room, it is just you and the patient. And they have placed the most valuable possession they have in your hands, their life. This is a great honor, and a great responsibility. It often involves significant personal sacrifice, early days, late days and sleepless nights. Worry for your patient, so they can worry less. Be intellectually honest. Be meticulous. Strive for perfection. Be available. Be an emotional support for your patient as disease elicits stress, and no one understands the disease process and its course better than you. Stay current on medical advances. Do the very best you can for your patient, they need and deserve it. Never let ego guide you, only honest evidence based medicine. Practice the science as well as the art of medicine."
Gary Kraus MD is Chairman of Neurosurgery at Memorial Hermann Memorial City Hospital, Houston, TX. He is Director of Neuroscience and Gamma Knife at West Houston Medical Center. He is Assistant Clinical Professor, Department of Neurosurgery at the University of Texas Medical School at Houston. Dr. Kraus is Board Certified by the American Board of Neurological Surgery, and is a Fellow of the American Association of Neurological Surgeons. He has been listed in "Best Doctors in America," and featured among "Best Neurosurgeons in Texas" and "Neurosurgery Leaders in the United States" in Newsweek; listed in "Who's Who in America."
Publications of Dr. Kraus include the textbook Microsurgical Anatomy of the Brain: A Stereo Atlas (published by Williams and Wilkins) in addition to numerous chapters and peer reviewed papers in the neurosurgical literature.
Gary Kraus MD is the founder and director of the Kraus Back and Neck Institute, which has treated patients with back pain and neck pain in Houston since 2004. For information, the Kraus Back and Neck Institute can be reached at 281-44 NEURO (446-3876).