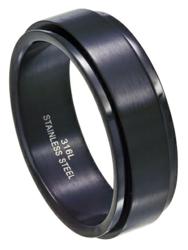 As more new styles are introduced in men's jewelry every day, men's spinner rings still hold a fascination among ring shoppers.
Jensen Beach, FL (PRWEB) March 08, 2012
In keeping with Just Men's Rings' (JMR) commitment to offer the best new styles in men's rings, the retailer is constantly adding more fashion rings to their endless inventory. With the addition of more men's spinner rings, JMR expects to attract a larger audience of fashion-conscious men who like to accessorize with jewelry. Also known as "men's spinning rings," the enhanced collection now includes a number of unique designs, including themed rings for racing fans, bikers, "Lord of the Rings" fans and more. There are men's spinner rings made from durable tungsten with a black ceramic center, mirrored tungsten spinner rings and bike chain spinner rings. The selection of men's spinning rings at JMR is second-to-none, and they are made from the sturdiest metals.
Also known as Tibetan worry rings and prayer rings, men's spinner rings consist of an inner band that is stationary and an outer band that spins freely around the outside. This unique design is perfect for men who are "fidgety" and need something to do with their hands during tense situations. According to JMR owner, Roy Devine, "Men often come to our site specifically seeking a certain spinner ring that they saw another man wearing. We rarely see men get that specific when they shop for men's rings, but these unique rings seem to have a very loyal following among JMR clientele."
In addition to their premium designer collections in gold, platinum, diamond, seranite and Argentium silver, JMR is known for their outstanding collection of fashion rings. Within the "fashion rings" category, men's spinner rings are available in several different styles, including Christian rings, biker rings, tribal rings and Celtic knot rings. No other type of fashion ring offers so many choices, and JMR makes them very affordable too. Prices range from $14.95 for a stainless steel cross spinner ring up to $67.95 for a black ceramic and tungsten spinning ring. Some of the newest styles in this category include a white ceramic and tungsten design and a stainless steel concave ring, but there is a broad range of styles in between.
As prices for precious metals rise and jewelry buyers become more practical in their selections, men's spinner rings are becoming even more popular at JustMensRings.com. Over the past seven years, owners Roy and Judy Devine have earned a solid reputation for offering men's ring shoppers the best possible selection of traditional and alternative rings. This enhanced collection of men's spinning rings is just another example of their tireless efforts. Men's spinner rings were among the first collections of fashion rings to really grab the attention of men from all walks of life. JMR now offers a range of styles, making it easy for every man to find a ring that suits them perfectly.
Men who are looking for a ring that is both fashionable and affordable will typically find what they want in JMR's collection of men's spinner rings. "At JMR, we often hear from customers who tell us about the hottest trends in men's rings. This, plus our regular research on industry trends helps us stay aware of the latest collections," says JMR co-owner Judy Devine. "Men's spinner rings are in high demand, and we expect to add even more rings to this category over the coming months." Women who are shopping for men's rings as a gift will often find exactly what they're looking for in men's spinning rings. As JMR continues to expand their inventory in this area, their customers will keep coming back for more.
About JustMensRings:
As an Internet-only retailer, JustMensRings.com is dedicated to providing a simple and secure online shopping experience. This is one site where customers know they are getting the best possible prices on an extraordinary selection of men's rings. JMR's customers have come to expect high standards of service, selection and quality when they shop at JustMensRings.com. In fact, Just Men's Rings (JustMensRings.com) now offers the largest selection of men's fashion rings on the Internet, and they are the only store in the U.S. that offers men's large size rings through size 20. They also lead their competitors with an unparalleled assortment of unique and alternative men's wedding rings, and JMR is known for their very low prices on men's gold rings. Despite the recent rise in gold prices, JMR keeps their prices low and affordable, and shoppers won't find better prices on silver, cobalt, palladium or platinum anywhere.
###