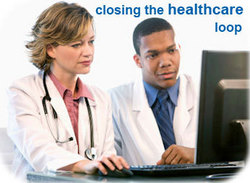 When it comes to pediatric and family care, it is critical that the medical community place more health and wellness control in the hands of the patient and the family. For children in particular, office visits alone aren't enough.
Ann Arbor, MI and Centennial, CO (PRWEB) December 8, 2009
White Pine Systems, LLC, an emerging provider of on-line personal health records ("PHR") solutions, and Pediatric Web, an established provider of pediatric practice web site design, hosting and content, today announced that they have entered into a joint marketing agreement to offer an interoperable PHR solution to help clinical staff, patients and their families better manage their health and wellness as well as chronic conditions.
White Pine's on-line PHR system, called SPINNphr™, the Secure Personal Information & Notification Network, allows people to create and manage their own on-line personal health information networks, to improve health-related communication and provide critical information at the time and place of need. Through these personal health information networks, families can exchange information with many doctors, hospitals and healthcare providers as well as with each other. For healthcare providers, SPINNphr is designed to allow physicians groups, hospitals, and clinics to offer their patients their own privately labeled, configurable personal health record system. SPINNphr is built to connect with Microsoft® HealthVault™.
More than just storing and retrieving static information, these solutions simplify everyday health-related activities such as recording personal test results (e.g. glucose readings), delivering lab results, requesting medication renewals, supporting secure patient/provider communication and recording health-related activities. Part of the connected health movement, also referred to as the Patient-Centered Medical Home (PCMH), these solutions have been shown to prevent avoidable hospitalizations, eliminate unnecessary tests, reduce emergency room visits and control drug costs thereby reducing total healthcare cost and improving the quality of life.
Pediatric Web is a full service website design firm that specializes in pediatric and family medicine practices. They recognize the importance of providing parents and patients with accurate peer-reviewed medical information when their child or loved one is ill. Collaborating with Dr. Barton Schmitt, whose Telephone Protocols can be found in over 20,000 physician's offices, Pediatric Web offers web-based triage and advice (Is Your Child Sick?) that can help practices provide better care for their patients after hours.
"We are excited to work with White Pine to meet this critical need," said Dr. Dan Feiten, a pediatrician and Pediatric Web's co-founder and CEO. "When it comes to pediatric and family care, it is critical that the medical community place more health and wellness control in the hands of the patient and the family. For children in particular, office visits alone aren't enough. We find that with chronic medical conditions like juvenile diabetes, asthma and obesity, nearly 50% of a practice's activity is spent on follow-up care and documentation, including ensuring that appointments are kept, tests are reviewed, treatments are adjusted and treatment changes are relayed to patients and other care givers. These complicated and burdensome responsibilities are labor intensive and subject to human error. By integrating with SPINNphr to improve communication with patients and other care givers, we are confident we can lower the cost, improve care and increase satisfaction for patients and their families as well as for clinical staff. But most of all, we can improve the health of these children and their families."
"We are honored by Pediatric Web's selection of White Pine to be their partner to provide this innovative solution for family care," said Doug Dormer, White Pine's founder and CEO. "Empowering the patient is such a critical piece of today's healthcare reform. Providing the tools to help a family better manage its ongoing health needs is a privilege. We are confident that, together with Pediatric Web, we will be able to help clinicians not only offer this beneficial service to their patients, but also create a family health management platform that ultimately improves health and wellness while reducing the number of avoidable hospitalizations—one of the most important measures of the quality and cost effectiveness of healthcare."
About White Pine Systems, LLC
White Pine Systems, LLC is a privately held company based in Ann Arbor, Michigan. Its flagship product, SPINNphr, the Secure Personal Information and Notification Network, is a low cost, fully configurable, private-labeled, PHR solution that improves communication between patients, healthcare providers and the patient's extended network of official and unofficial care givers. Built to connect with the Microsoft© HealthVault™ personal health information platform, SPINNphr bridges the gap between EMR systems used by providers and emerging PHR platforms to achieve the promise of patient and family-centered chronic disease management. SPINNphr connects family, guardians and healthcare providers through their own secure personal health network to deliver the right information any time, any place.
About Pediatric Web
Pediatric Web is a web design firm that provides peer-reviewed pediatric/adult content and other web-based tools for the websites of pediatric and family practice offices, hospitals and corporations. Pediatric Web services include: Web Site Design, Medical Content, and Secure Online Forms. The Secure Features allow families to register online, request referral, refill prescription, request non-urgent appointments and request immunization records.
Corporate Contacts:
White Pine Systems, LLC
Jonathan Smolowe
(215) 794-5893
Pediatric Web
Dan Feiten, MD
(303) 756-6223
###