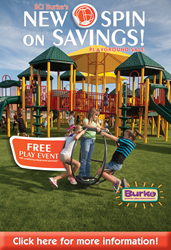 "We constantly strive for rewarding ways to collaborate with our sales force to provide the highest quality playgrounds and recreation equipment that will get and keep kids everywhere outside playing,"
Fond du Lac, Wisconsin (PRWEB) September 18, 2014
As part of BCI Burke's ongoing avid commitment to keep kids active through play and fitness, a "Spin on Savings" incentive was announced. Savings on a playground can reach up to $25,000, with free play events offered on top of the discount.
"We constantly strive for rewarding ways to collaborate with our sales force to provide the highest quality playgrounds and recreation equipment that will get and keep kids everywhere outside playing," said Tim Ahern, BCI Burke CEO/Owner. The "Spin on Savings" is just one of the many ways that we assist our customers to obtain new or improved playspaces," Ahern added.
The exclusive program runs September 1 through October 24 and includes several pre-designed play structures with substantial savings. Burke custom playgrounds are also included in the "Spin on Savings," with discounts on these structures based on the total amount of the order. Customers will also receive a free play event as an added enhancement to the discounts. Select Burke give away items included in this give-away are Kidforce Spinner, Drum Panels, Z Balance Beam, Comet and the Single Post Swing.
In order to take advantage of the remarkable savings on these Burke Built playgrounds, orders must be placed by October 24 to ship by December 19, 2014. Visit http://www.bciburke.com/savings for complete program details.
BCI Burke's Reinventing Play™ business model showcases continual improvement and premium customer commitment, as well as creating the highest quality playground, park and recreation products, backed by the best warranty in the industry. Since their inception in the early 1920s, Burke has been a champion of engaging kids and families in healthy, challenging and safe play.