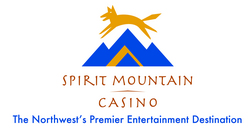 I'm just stunned that it's me.
Grand Ronde, OR (Vocus) October 14, 2009
Rosemary Umsted, 62, of Salem hit a $536,662.40 jackpot yesterday at Spirit Mountain Casino while playing a penny slot machine.
"Follow the yellow brick road has a whole new meaning to me now," said Umsted as she explained she was playing the maximum bet on a Wizard of Oz machine for about 20 minutes before hitting a jackpot for half a million dollars.
"It's funny," she said. "The lady sitting next to me leaned over and said she hoped to win the jackpot. I told her don't hold your breath, and then I hit it.
"I still can't believe it. I just want people to know that you actually do win at Spirit Mountain," said Umsted. "I'm just stunned that it's me."
Umsted says she really doesn't know what she plans do with her winnings yet because her husband is on a hunting trip in Canada and she hasn't had the chance to share her news with him. In the meantime, she will pay some bills and do some Christmas shopping.
About Spirit Mountain Casino
Spirit Mountain Casino is the Northwest's Premier Entertainment Destination. SMC opened its doors in October 1995. Named as Oregon's #1 visitor destination for over a decade, Spirit Mountain offers the most dynamic gaming and entertainment options in the region with the opening of its brand new Mountain View Sports Bar and Raindrops Nightclub. The casino is located just 90 minutes west of Portland, nestled in the Willamette Valley's coastal range.
Presenting the largest and most diverse gaming options in the Northwest, Spirit Mountain offers Nevada-style slots, blackjack, craps, roulette, poker, pai gow, keno and bingo throughout its spacious 90,000-square foot casino.
With 254 tastefully decorated rooms, including 14 elaborate suites, Spirit Mountain Lodge provides comfort and exemplary service for its overnight guests.
Whether it's fine cuisine at its signature Legends restaurant, enjoying Oregon's largest buffet at Cedar Plank, or trying one of the other food outlets, patrons have a variety of high-quality dining options.
Spirit Mountain Casino is an enterprise of The Confederated Tribes of Grand Ronde. For more information, please visit http://www.spiritmountain.com.
###