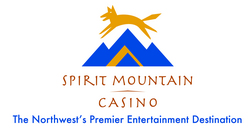 Grand Ronde, OR (Vocus) October 14, 2009
Two of country music's great performers Ronnie Milsap and Lorrie Morgan will perform live in concert at the Spirit Mountain Event Center on Friday, November 6th. Both Milsap and Morgan are known for topping the country music charts with No. 1 singles such as Morgan's Five Minutes, What Part of No and I Don't Know My Own Strength.
Milsap, a country music veteran still packs concert halls across the country with hits like Smokey Mountain Rain, No Getting' Over Me and A Woman In Love. He has recorded more than 40 No. 1 hits throughout his career and has receved numerous Grammy and CMA awards.
Tickets to see Ronnie Milsap and Lorrie Morgan in concert are on sale now for $15, $25 and $30 at Star Tickets Plus. Doors open at 7 p.m., the show begins at 8 p.m. To purchase tickets go to http://www.starticketsplus.com or call 1-800-585-3737. You can also purchase tickets at http://www.spiritmountain.com or at the Coyote Club desk at Spirit Mountain Casino.
About Spirit Mountain Casino
Spirit Mountain Casino is the Northwest's Premier Entertainment Destination. SMC opened its doors in October 1995. Named as Oregon's #1 visitor destination for over a decade, Spirit Mountain offers the most dynamic gaming and entertainment options in the region with the opening of its brand new Mountain View Sports Bar and Raindrops Nightclub. The casino is located just 90 minutes west of Portland, nestled in the Willamette Valley's coastal range.
Presenting the largest and most diverse gaming options in the Northwest, Spirit Mountain offers Nevada-style slots, blackjack, craps, roulette, poker, pai gow, keno and bingo throughout its spacious 90,000-square foot casino.
With 254 tastefully decorated rooms, including 14 elaborate suites, Spirit Mountain Lodge provides comfort and exemplary service for its overnight guests.
Whether it's fine cuisine at its signature Legends restaurant, enjoying Oregon's largest buffet at Cedar Plank, or trying one of the other food outlets, patrons have a variety of high-quality dining options.
Spirit Mountain Casino is an enterprise of The Confederated Tribes of Grand Ronde. For more information, please visit http://www.spiritmountain.com.
###