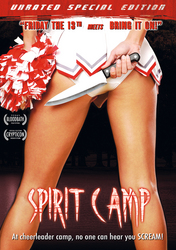 I love 80's horror, and wanted to make a film that captured that feeling, but had a modern sensibility to it. This is definitely a movie for old school horror fans
Houston, TX (PRWEB) April 7, 2010
SPIRIT CAMP, a new horror comedy, starring Brandon Smith (Jeepers Creepers, No Country For Old Men) and Julin Jean (The Final, Puncture, Sweatshop), makes its Dallas Premiere Saturday, May 1st at 8pm at the Texas Frightmare Film Festival alongside George Romero's SURVIVAL OF THE DEAD and Adam Green's Sundance hit, FROZEN.
SPIRIT CAMP is an 80's style slasher, best described as "FRIDAY THE 13th meets BRING IT ON!" When a street smart goth-girl is forced to attend cheer camp as part of her rehabilitation from a juvenile correction facility, she clashes with the "popular girls" and finds herself embroiled in a bitter rivalry with the bitchy ringleader. But when members of the spirit squad start turning up dead, the girls must put aside their differences as they struggle to survive the murderous rage of a crazed psycho-killer lurking among them.
"I love 80's horror, and wanted to make a film that captured that feeling, but had a modern sensibility to it. This is definitely a movie for old school horror fans," says director Kerry Beyer. An acclaimed fashion photographer, Beyer's work has appeared in Vogue, Lucky, Allure, The NY Times and more. "Moving from photography to cinematography was very natural, and my experience with stills was invaluable in achieving the look of a studio picture on an indie budget," says Beyer. Called "one of the modern greats of cult horror" by Cinesploitation.com, Beyer is a former winner of the Slamdance Anarchy Film Showcase and semi-finalist in the Nicholl Fellowships in screenwriting.
Like any independent film, the production was faced with many challenges, but when Beyer's mother (who was handling the film's catering and craft service) was diagnosed with a brain tumor during principal photography, the word "horror" took on a whole new meaning. "The things you thought were so important suddenly become insignificant when faced with something like this – it was devastating!" says Beyer. "Fortunately, doctors were able to remove the tumor - and I feel very blessed to still have my mom!"
Shot on location in Houston and Cleveland TX, SPIRIT CAMP premiered in Houston at the Studio Movie Grill with two sold out shows. Currently enjoying a festival run, program director Andrew Rose of the Texas Bloodbath Film Festival called SPIRIT CAMP "the funniest slasher of this decade!"
A signed Limited Edition DVD of Spirit Camp is available now from http://SpiritCampMovie.com/BUY.html
Own your copy TODAY!
# # #