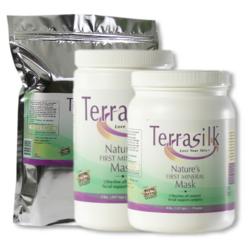 TerraSilk clay mineral powder, provides your skin with 57 trace minerals that help restore your skin's healthy glow, while naturally cleansing both pores and subdermal layers
Bakersfield, California (PRWEB) November 23, 2012
Spirit Detox (spiritdetox.com), a leading online retailer of natural health, wellness and beauty products, recently announced the addition of TerraSilk Clay Mineral Powder to its line of beauty products. Using natural montmorillonite clay found in southern California, TerraSilk allows the user to restore the skin's natural balance of minerals to treat a range of skin conditions while restoring the appearance and overall health of the skin.
The TerraSilk product is perfectly aligned with the goals of Spirit Detox, which are to promote natural products and improve the wellness of people and animals. By helping individuals detox the skin, which is the body's largest organ, the leadership team at Spirit Detox believes they can promote health while also providing individuals with a way to keep their skin beautiful.
According to Albert Milligan, founder of Spirit Detox, the company chose the product because "TerraSilk is easy to use, and because it has no artificial ingredients or additives, it is safe for use on even the most sensitive skin types. The ION-MIN that comprises TerraSilk is proven 100% safe for use, hypoallergenic, and the clay powder never expires."
The main benefit of TerraSilk is found in that clay powder, which contains a rich blend of minerals that the skin needs to look its best. "TerraSilk clay mineral powder," says Mr. Milligan, "provides your skin with 57 trace minerals that help restore your skin's healthy glow, while naturally cleansing both pores and subdermal layers."
When applied, TerraSilk kills bacteria on contact, which helps it treat acne and other bacteria related conditions. It also works as an exfoliating product and can be used to treat eczema and psoriasis. It produces a toning effect on the skin and can refine pores, all while removing toxins and pathogens.
To use TerraMin, all an individual has to do is apply a mixture of the clay powder and water to the skin, allow it to dry and then rinse it off after about 20 minutes. It can be used safely three times per week. This simplicity, combined with the remarkable results people see with TerraMin, are why Spirit Detox felt confident enough to include the product in their lineup.
About Spirit Detox
Spirit Detox is an online retailer specializing in health and wellness products that pull toxins from the body and restore health through the power of mineral rich clay. All of the products, from detoxifying supplements to beauty applications, are completely natural and free of artificial chemicals and toxins. To learn more about Spriti Detox, visit http://www.spiritdetox.com.
##
Contact:
Albert Milligan
Owner Spirit Detox
Phone: 800-699-1077