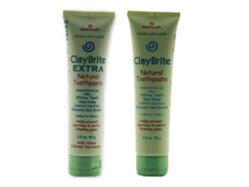 We want to give our customers natural products to improve their health and well being. Traditional toothpastes are loaded with toxic chemicals that cause more problems than they help
Bakersfield, California (PRWEB) December 12, 2012
Through their relationship with Zion Health Inc., Spirit Detox (SpiritDetox.com) has announced the addition of clay-based toothpastes to its natural remedies and personal hygiene products. The newly added toothpaste contains no fluoride, so customers who are concerned about the dangers of traditional toothpastes now have an alternative. With the addition of this product, Spirit Detox hopes to introduce its customers to the benefits of clay in protecting oral health.
When asked about why he chose to add the toothpastes, Albert Milligan, the owner of Spirit Detox, said, "We want to give our customers natural products to improve their health and well being. Traditional toothpastes are loaded with toxic chemicals that cause more problems than they help. By using clay basted toothpastes, our customers can keep their teeth and gums healthy without any undo risk."
The toothpaste line, which includes two separate toothpastes, is made with edible high grade bentonite clay. This clay is one of the few proven homeopathic remedies for oral problems. It contains minerals that can reach between the teeth and gums to absorb unwanted bacteria. In addition, the newly added toothpastes contain xylitol and green tea extract, which are common home remedies used to freshen the breath and prevent inflammation and bleeding of the gums. A natural mint leaves the mouth feeling fresh and clean.
There is one noticeable difference between this product and traditional toothpaste. "Customers using this product for the first time may notice some minerals left behind on their teeth," warns Mr. Milligan. "This is normal, and actually quite healthy. Those minerals will continue working to promote oral health throughout the day."
Spirit Detox recommends using the toothpaste twice a day for best results. The best time to brush is after meals.
About Spirit Detox
Spirit Detox is an online store dedicated to helping people rid their bodies of toxins by providing them a convenient way to shop for natural health, beauty and wellness products. All of the products offered by Spirit Detox are made with healing bentonite clay, which gives the body the minerals it needs for ultimate health. For more information visit http://www.spiritdetox.com.