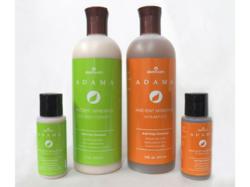 Clay is healthy for the entire body, inside and out
Bakersfield, California (PRWEB) December 27, 2012
Spirit Detox (spiritdetox.com) recently added a line of clay shampoos to its growing list of health and beauty products. The shampoo, which comes from Zion Health, provides a natural alterative to modern shampoos. With the addition of these shampoos, Spirit Detox offers an extensive line of beauty and personal hygiene products to its wellness conscious customers.
"Many people are not aware of the potential dangers in traditional shampoos," stated Albert Milligan, owner of Spirit Detox. "Carcinogens, toxins and other dangerous chemicals are commonly found in the shampoos people use daily. We wanted to provide a natural alternative that provided cleanliness without these dangers. When we found the Zion Health shampoos, we knew they were the right choice."
The newly added shampoos contain clay, as do all of the products at Spirit Detox. The trace minerals in the clay combined with rich botanical herbs help repair the hair and restore natural shine, body and moisture. The shampoos are used the same way conventional shampoos are, and are safe for daily use.
Spirit Detox will offer three different blends of the clay shampoo. An anti-frizz option is ideal for curly headed individuals fighting to tame frizz and fly-away hairs. Peach jasmine is popular because of its pleasant scent. The basic shampoo restores shine and bounce to unhealthy hair.
"Clay is healthy for the entire body, inside and out," stated Mr. Milligan. "With the addition of these shampoos to our beauty products, our customers can now benefit from the power of healing clay on their hair as well as on their skin and in their bodies."
About Spirit Detox
Spirit Detox is dedicated to preserving the health and well being of individuals and the environment through providing natural remedies to common complaints. Their products, all of which include healing clay, provide beauty treatments, detox regimens and health supplementation. Visit http://www.spiritdetox.com to find out more about the healing power of natural clay.
###
Contact:
Albert Milligan
Owner/Founder
800-699-1077