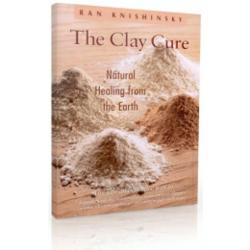 Our carrying this book is designed to help teach consumers the many benefits of healing clay
Bakersfield, California (PRWEB) January 31, 2013
It is no secret that Wellness Provider Spirit Detox (http://www.spiritdetox.com) has carried healing clay products for awhile. Now, author Ran Knishinsky has released a book dedicated to the topic and its many uses.
The Clay Cure is now available via Spirit Detox's website. Inside, Knishinsky details how edible healing clay can help treat a range of illnesses. In addition, the history of edible clay, the nutritional value, and why one would choose a clay based routine is described. Best yet, it is done in a manner in which most lay people can easily understand without any over-the-top medical lingo.
"Our carrying this book is designed to help teach consumers the many benefits of healing clay," states Spirit Detox Owner, Albert Milligan. "We are really proud to have this in our ever expanding lineup of product to help our customers feel their best."
The current cost of the book is $12.50 plus shipping.
Spirit Detox is dedicated to emotional and physical wellness, with a commitment using all-natural healing and enhancing products to promote the health and wellness of people, without damaging the earth or its creatures. Their line of products includes natural detoxing products for people and animals at fair prices. To learn more visit http://www.spiritdetox.com.