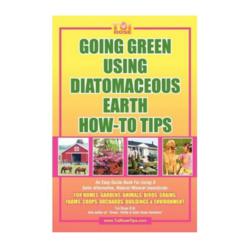 This is one of the most environmentally friendly products you can use for your own nutrition, as a cleaning agent and even to help your pets and animals remain healthy, all without a reliance on harmful chemicals
Bakersfield, CA (PRWEB) February 05, 2013
SpritiDetox.com, an online retailer specializing in the sale of clay-based health and beauty products, announces the addition of a how-to guide book to its online store. The book, entitled Going Green Using Food Grade Diatomaceous Earth How to Tips, offers practical tips for incorporating diatomaceous earth into everyday life for a healthier, more natural lifestyle.
Diatomaceous earth is an environmentally friendly clay that comes from ancient fossilized algae. It is packed with nutrients and trace minerals that are ideal for humans, animals and even the soil. When asked about the value of diatomaceous earth, Albert Milligan of Spirit Detox said, "This is one of the most environmentally friendly products you can use for your own nutrition, as a cleaning agent and even to help your pets and animals remain healthy, all without a reliance on harmful chemicals."
The book, which is written by a registered nurse, shows how diatomaceous earth can be used in many areas of life, from health and beauty to cleaning around the house. The rich clay can add nutrients to soil, protect and store grains and seeds, remove light scratches from vehicles and even polish tarnished silver. The guide focuses on practical how-to tips to aid those who are looking to incorporate this healthy mineral into their day-to-day lives.
Going Green Using Food Grade Diatomaceous Earth How to Tips is available through the SpiritDetox.com online store.
About SpiritDetox.com
SpiritDetox.com is an online retailer specializing in products containing natural healing clay. In addition to an extensive list of health, beauty and wellness products, the online retailer also offers information about the health benefits and use of clay. Visit http://www.spiritdetox.com to learn more about how you can benefit from the healing power of clay.