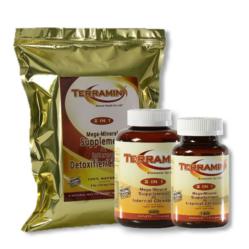 Clay is an effective neutralizer of acids. It also absorbs the gases, trace poisons, toxins and parasite that cause stomach problems. All of this is done naturally, so the body can rid itself of the harmful effects of toxicity.
Bakersfield, CA (PRWEB) November 07, 2012
This week Spirit Detox (spiritdetox.com), a California-based online health and wellness store, announced the addition of TerraMin, a detoxifying product that contains healing clay, to its online store. With the release of this product, the company hopes to help the millions of people in the United States suffering from stomach ailments due to toxins in their systems.
According to the National Institutes of Health, between 60 and 70 million people in the United States suffer from digestive complaints, including acid reflux, bowel troubles and ulcers. Albert Milligan, owner of Spirit Detox, believes toxins are to blame.
"It makes sense that environmental toxins would harm the stomach," said Mr. Milligan when asked about toxins. "They are everywhere, but they are heavily present in the food and water supply due to pollution and genetic modification of our food. Every day, people eat these toxins, and the digestive system must pull them from the food to avoid poisoning the body. As a result, the liver, kidneys, stomach and intestines take a beating."
Since people cannot avoid toxins altogether, Mr. Milligan and the team at Spirit Detox chose TerraMin, which contains healing clay, as part of their line of detoxifying natural health products. The team at Spirit Detox chose TerraMin over other detoxing products because of the healing clay, which contains minerals to help heal the stomach and digestive organs.
When asked about the choice to offer TerraMin, Mr. Milligan said, "The healing clay in TerraMin supports the digestive system by bringing the entire system back in balance. It also absorbs intestinal parasites and trace poisons that are common problems for people with digestive complaints. That is why we chose to add it to our line of natural healing products."
TerraMin is added to a large list of health and wellness products for both animals and humans that focus on adding minerals back into the body to eliminate toxins and promote wellness.
About Spirit Detox
Spirit Detox is dedicated to emotional and physical wellness, with a commitment using all-natural healing and enhancing products to promote the health and wellness of people, without damaging the earth or its creatures. Their line of products includes natural detoxing products for people and animals at fair prices. To learn more visit http://www.spiritdetox.com.