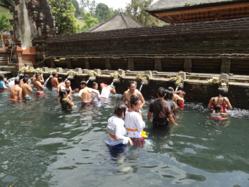 As I immerse myself under the cold water, I am shocked into full awareness, clarity washing over me along with the stream.
(PRWEB) August 31, 2012
A visit to the holy springs of Tirta Empul is a glimpse inside Bali's spiritual heart. Almost devoid of tourists but brimming with locals come to take the holy waters, Tirta Empul is at once crowded, joyful, raucous, and deeply uplifting.
Tirta Empul, the "Ganges" of Bali travel, is a centuries-old place of purification. The legend is that the god Wisnu refreshed the embattled humans fighting a demon army by striking a rock, causing the waters to pour forth. The Balinese have been returning ever since.
On a typical visit, we arrive with our Eat Pray Love group late morning, and spend fifteen minutes in the parking lot on a sarong-tying lesson. It's important to get it right because we are not here as mere observers; like the Balinese, we will be immersing ourselves in the spring waters which pour out of carved spouts, dousing us with a fervent cleansing of water and Spirit.
Climbing the few steps through the carved portal into Tirta Empul's springs, I am struck once again by the crazy jumble of humanity that abounds behind the main wall. Children screech as determined parents thrust their small heads under the rushing streams; Balinese men wade, shirtless, through the calm waters; women in full temple dress—their hands clasped in Namaste prayer—bob from spout to spout, all chattering and gossiping as if they were at market day.
The Balinese meet our eyes, friendly and smiling, glad to see us alongside them. I am grateful for their warmth and openness, their welcoming kindness for the strangers on a spiritual tour, clumsily performing their rituals.
We stand in snaking lines, up to our waists in the cold water, warmed by the gentle sun. As I wait my turn, I remember the night we came at the full moon, especially sacred to the Balinese. It was pouring rain, and the moon was merely a theory as we entered the pool at midnight, already drenched. I watched an exorcism that night, as two Balinese men dragged a hollering, thrashing woman under the spouts. Two more men stood guard as they puffed on huge homemade cigarettes, expelling clouds of smoke into the already thick air. Eventually, she calmed, the demon apparently moved on to easier lodgings, and they escorted her under stream after stream as she was cleansed.
Now I watch as the members of our spiritual travel group move into position, each in turn dunking his or her head under the first stream. We look like Orthodox Jews davening as our heads dip neatly under the rushing water, from four to thirteen times per fountain. Each spout has Sanskrit words carved into its mouth, embodying the meaning of that fountain. To know what the word is, the Balinese say, your "third eye" (the eye of mysticism or intuition) must be open. The water passes over these sacred words just before it sluices onto our heads. I murmur a quick gratitude blessing and duck my head. As I immerse myself under the cold water, I am shocked into full awareness, clarity washing over me along with the stream.
I turn to my right, and wade over to the next spout to repeat this sacred experience. The people in our group look a little dazed, their smiles brilliant as I pass by. I don't know whether I will receive the gift of the words in these spouts, whether the water will cleanse or uplift me. I only know that I feel truly alive in this moment, present and thankful.
###
Spirit Quest Tours is a leading provider of luxury spiritual travel. Founded by Halle Eavelyn and Greg Roach to help guests awaken their dreams, the company leads several Eat Pray Love tours to Bali each year, along with spiritual tours to Egypt, small culinary tours in Europe, and travel to sacred sites all over the globe.