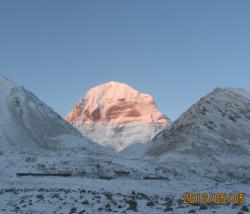 Tibet pilgrimage tours with all permits 2013
(PRWEB) February 04, 2013
Tibetctrip.com, a Lhasa-based Tibet tour company, is currently offering spiritually-oriented trips to the most prominent monasteries in and around Lhasa. They offer trips from 4 to 24 days.
"Tibet is known as the land of mystery," TCTS has said. "It has a rich and breathing culture, mystical monasteries and spiritual environment inherited from centuries and centuries."
The 14 days spiritual Tibet pilgrimage tour starts in Lhasa, where visitors explore historical and religious sites, including Potala Palace and Jokhang Temple, as well as the Sera and Drepung monasteries. After few days' culture tour in Lhasa, travelers will extend their trip further to west Tibet Kailash Manasarovar regions which are regarded as the most sacred tour destinations in Asia and finally they can leave Tibet border for Nepal.
Here below is the Tibet Kailash tour sample itinerary:
Day 01 to day3, easy culture tour in Lhasa, tourists will visit the famous Potala Palace, Jokhang Temple, Barkhor Bazaar, Drepung & Sera monastery, travelers have good acclimatization in Lhasa before going to higher altitude in West Tibet.
Day 04 to day 07 Lhasa-Yamdrok Lake-Karola Glacier-Gyantse-Shigatse-Tashilhunpo Monastery-Saga-Manasarovar
Day 08 Excursions at Manasarovar, Drive to Darchen (Tarboche [4750m])
Day 09 to day 11, Kailash trekking (from and to Kailash Darchen base camp)
Day 12 Darchen to Saga [4600m]
Day 13 Drive from Saga to Nyalam or Zhangmu [2100m]
Day 14 Drive to Kathmandu
"This spiritual journey focuses on peaceful hermitage cliffs in remote areas," TCTS said. "The tour avoids the tourist crowds and follows in the footprints of devoted Tibetan pilgrims."
However currently, there are still several restrictions for Tibet travel. Example: citizens of the Japan and Vietnam cannot get permits at this time. Obtaining a Tibet travel permit is a straightforward process. Since independent travel in Tibet is not possible at this time, also, depending on the time of year and local political climate, there may be additional restrictions on group sizes and travel to certain areas of Tibet. Tibet Ctrip Travel Service is based in Lhasa since 1999 and they specialize in Tibet tours and trekking services and people can get the Tibet travel permits news update.