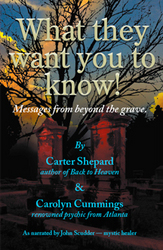 This book has the potential to change peoples' lives. For those who approach it with an open mind, it will have an immense affect on them.
Atlanta, GA (PRWEB) December 3, 2007
One of the most interesting compilations of predictions, past experiences and mysteries from life yesterday and today is expressed in an interview book unlike any other published.
What They Want You to Know...Messages from Beyond the Grave is Carter Shepard's second book in the spiritual genre and is replete with comments and thoughts from some of the most powerful and elite people of our society ... who, by the way, are all deceased! Online sales of the book, which is already garnering rave reviews, have been brisk and the publishers are predicting brisk sales throughout the holiday season.
Shepard, a student of metaphysics and spirituality since 1978, and co-author, psychic Carolyn Cummings, interviewed Leonardo DaVinci, William Shakespeare, Jackie Kennedy Onassis, Steve Irwin, Natalie Wood, Grace Kelly, Johnny Cash and Nicole Simpson, among others, to capture the messages they want the world to know ... today.
According to Shepard, the interview process was different than any other psychic experience he had before. "Communication was free-flowing," he states, "and I was shocked by some of the answers as I believe many who read this book will also be."
As Shepard questioned his famous deceased interviewees, co-author Cummings relayed their responses. Cummings, a retired R.N. who practiced for 20 plus years in public health and home health care, left nursing nine years ago to devote her life full-time to helping others in their spiritual journeys. "In these readings, I saw images, some clear," says Cummings, "but usually when people are involved, I feel their presence and hear them as well as see and feel them."
Shepard says he is aware of some books that communicate with the spirit world, but he has not seen anything that approaches the scope of this book in terms of answering questions about metaphysics.
"I think this book contains phenomenal metaphysical messages that reach the very core of what our purpose is here on earth," says Shepard. "This book has the potential to change peoples' lives. For those who approach it with an open mind, it will have an immense affect on them."
Why should people read this book? Says Shepard, "First, it will give people a new understanding of the other side and what the journey is that we call 'death.' Second, it will give readers the tools they need to improve their own journeys. And third, it will tell people what we are doing wrong in this world, and what must be done to save our freedom."
According to Shepard and Cummings, the basic message in this book is that one must love himself, and then love others. "We must also live as God taught us to live -- love one another as I have loved you," says Shepard. "And we must choose our leaders carefully. We must choose leaders who will protect our freedoms and not have their own power as their agenda."
Regarding any accusations made in this book? "The interviews were designed to be done with no 'pre-conceived notions,'" says Shepard. "As in a case like O.J. Simpson, there has been tremendous interest regarding his innocence. When I asked Nicole to describe her murder, I had no clue what her answer would be. It is not I, but Nicole, who accused O.J. And it is interesting to note that Nicole said O.J. would be in trouble again -- and look what is happening in his life right now!"
What They Want You to Know - Messages from Beyond the Grave is available in paperback and can be ordered through the Internet web site http://www.whattheywantyoutoknow.com. The cost is $19.95 plus $5 for shipping and handling. The first 500 books ordered will be numbered and signed by the authors.
About Carter Shepard:
Carter Shepard has been a student of spirituality and metaphysics for 30 years. During those years, he has given speeches on metaphysics and reincarnation and has led healing groups across the country. In addition to performing five exorcisms, Shepard authored his first book in 1996 entitled Back to Heaven.
About Carolyn Cummings:
Carolyn Cummings has been a psychic in Atlanta, Georgia, for over 20 years. She has developed her talent to the point that she is well-renowned and does readings for people from all over the world. Cummings comes from a background as registered nurse and author of 'Beneath the Mask,' an empowerment card deck. She says that being a psychic is not what she had in mind for her career. Rather, it is what the universe had in mind for Cummings, and she followed that instruction.
# # #