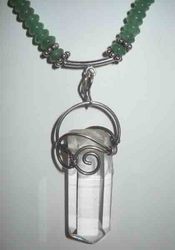 New Milford, NJ (Vocus) February 25, 2010
Spirit Journeys announces collaboration with metaphysical jewelry artist Christopher Caramelli. Mr. Caramelli's spiritual jewelry will be offered on Spirit Journeys' SpiritWear webpage. As with all items available at SpiritWear, 100% of the profits generated from sales of Mr. Caramelli's creations go to Spirit Journeys' SpiritFund Scholarship program.
Handcrafted metaphysical jewelry from SpiritWear is a unique, beautiful addition to any jewelry collection, as well as an excellent choice when seeking a meaningful gift for a family member, friend or partner. With lovely handcrafted beads, natural healing stones, powerful metals and intentional crafting, spiritual healing jewelry is wonderfully appealing, as well as physically, emotionally and spiritually healing. Inspirational jewelry is ideal for rejuvenating the spirit, balancing energies and simply wearing artisan-crafted pieces that are imbued with healing energies.
Energy healing is one of the world's oldest forms of medicine and has been practiced for thousands of years throughout the world. Long before the invention of instruments with the ability to measure the vibrational energies of healing stones, ancient healers and societies were intrinsically aware of their capacity to heal and used a wide array of stones in their everyday lives and practices. Seekers of healing were often provided with a necklace, amulet, bracelet or other piece of spiritual healing jewelry with a specific combination of metals, stones and natural elements to help overcome spiritual, emotional or physical ailments or blocks.
The healing properties and subtle energies of each healing stone used in power jewelry are connected to different parts of the body, bodily functions and emotions. Most often, stones used in metaphysical jewelry are chosen specifically for their abilities to open particular chakras or to strengthen or calm energies in the manner that will be most beneficial for the wearer. The ancient practice of employing spiritual jewelry for healing has been carried forth to today through generations of spiritual and traditional healers, and gifting metaphysical jewelry to those we know in need of healing, or simply to show them that we care about their health and well-being, has become increasingly popular.
Aside from giving handcrafted spiritual healing jewelry as a gift and using it in healing practices, purchasing pieces for personal use is a powerful means of centering, working on personal growth, balancing and focusing energies, and investing in the personal emotional and spiritual healing process. Selecting a piece of metaphysical jewelry is a particularly empowering experience that focuses intentions and puts forth the desire to open to the healing energies offered by each beautiful stone. Whether the search is for physical healing for a specific ailment, inner peace and centering, or to be more fully expressive, inspirational jewelry crafted with healing stones will give off subtle energies to assist in achieving these goals and enhancing overall health and well-being.
One of the most intriguing aspects of selecting spiritual or power jewelry is that there are simply no wrong decisions. Allowing intuition to be the guide, people will find that they are naturally drawn to the piece of spiritual jewelry that is ideal for the intended purpose.
For additional information on SpiritWear or Spirit Journeys' special gay vacations, contact Howie Holben or visit http://www.spiritjourneys.com.
About Spirit Journeys:
Spirit Journeys offers amazing gay vacations, gay travel tours and gay retreats. Trips with Spirit Journeys offer much more than an ordinary vacation. Call (800) 754-1875 to learn more about Spirit Journeys.
###