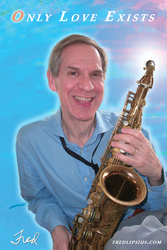 Fred Lipsius has a remarkable personal playing style, whether it be on alto or tenor saxes, piano, or arranging and composing.
Boston, MA (PRWEB) April 28, 2010
Fred Lipsius is the Grammy Award-winning arranger of the hit song "Spinning Wheel" and original saxophonist /pianist/ conductor with Blood, Sweat and Tears. He has just released "Only Love Exists" - a reflective, soothing, joyful album showcasing his original pieces, orchestrations, and saxophone/piano talents. Two of the tracks feature Fred reciting some of his spiritual poetry over music.
In his liner notes, Fred says, "Many of us, I'm sure, have experienced the gift of God's pure love, touching us in some unique way - entering our heart and forever changing the way we look at things. We realize that this most blessed love, which shines down on us and gives life to all, needs to be shared. By allowing this divine love to outflow from us, we grow spiritually. So in keeping with life's natural flow, I joyfully share these musical renderings. May they benefit you in many ways."
Fusing many different musical genres from jazz to pop to new age, Fred creates original compositions that are fresh and uplifting to the heart and to the ear.
Tim Price, one of the album reviewers for the Saxophone Journal, has known about Fred's unique talent for years: "The creativity Fred displays on his alto gives a fresh depth and proportion to the horn. He is in great creative control and knows what he wants to say. The music is evocative and powerfully individualistic. His way of playing is extra-ordinarily creative. Like all serious musicians, Fred Lipsius has a remarkable personal playing style, whether it be on alto or tenor saxes, piano, or arranging and composing."
In conjunction with the new album, Fred is launching a redesigned website that features stories, videos, original artwork, and mp3s from many of the albums he has recorded throughout his musical career. Visit Fred's Website to check it all out. He's also produced a music art video for his song "Rumi", which is available on the Music page of his website and on his YouTube channel at http://www.youtube.com/lipsiusvideo.
In respect to his artwork, Fred has over 100 pieces available for sale online at his Digital Gallery. His artwork ranges from five feet large to 8 x11 inches small.
When not focusing on his music and art, Fred teaches full-time at Berklee College of Music in Boston, MA. He is the kind of teacher who knows how to inspire his students through knowledge, inspiration, and a divine love for the music. "Getting across the 'creative spark' to a student is probably the most important and hardest thing to do," says Fred.
Fred's album Only Love Exists is available at iTunes for $9.95 and at Amazon.com as a CD for $14.99 and a mp3 download for $7.99.
Website links:
Fred's Website
Fred's Digital Art Gallery
Fred's YouTube Channel
###