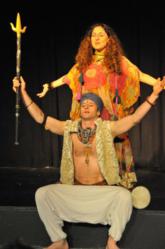 "All paths are welcome – we strongly believe that we all share the same light and the same calling for love," Luba Evans
New Lebanon, NY (PRWEB) June 06, 2011
Galiana offers a wide range of spiritual retreats for individuals as well as for couples who are looking to explore meditation, tantric practice, cleansing and rejuvenation. Galiana offers unique spiritual retreats like Healing the Broken Heart Retreat, Galiana Goddess Rejuvenation Program and Entering Shivahood Men's Retreat. The workshops are taught by Luba Evans, the founder of the retreat along with teachers from New York, Boston, India and Australia.
The celebration for the spiritual retreat opening will be joined by spiritual leaders and entertainers from different parts of the world: Anton Richard Diaz, Bruce Lyon, Shakara Lyon, Ricardo Frotta, SriKala, Ekayani and the Tom Glide Space, Alokananda, Brynn Bishop, Pushana, RedHawk, Kiela Mellott, Zahava, CC Treadway and others.
The Galiana Grand Opening features Kundalini Yoga, 8 Tantric Workshops, Tantra Tango, Spiritual Cabaret, Kirtan, Shamanic Aromatherapy, Tantric Banquet, Drumming and SoulDance, Tibetan Yoga and Raw Food Sampling. Many workshops are dedicated to the awakening of the divine feminine and core masculine in the modern culture. Luba Evans, the founder of the spiritual retreat, author of the book Healing the Broken Heart and the play When the Gods are Laughing says, "Find your core feminine and absolute masculine. Let them fall in love with each other. Let your inner man adore your inner woman, and let your inner woman admire your inner man. Maximize your inner charge."
The Galiana Theater presents "When the Gods are Laughing" - a combination of interactive theater and meditative practice, based on international spiritual heritage.
Guests enjoy the pine log chalet with a spacious meditation hall, outdoor dining decks, yoga dome, Goddess Temple, cedar sauna, heated pool, Ayurvedic treatment room and hiking trails. Galiana serves organic vegetarian food rich in fresh produce, grains and juices.
Galiana attracts people from all walks of life, all age groups. Luba Evans says: "All paths are welcome – we strongly believe that we all share the same light and the same calling for love. We are here to help everybody who is ready to restore the ability to feel and love, maximize our potential as humans, rejuvenate, heal, maybe even shift to a new dimension of possibilities. Life is sacred. Every moment of it is priceless."
Join us on Facebook
http://galianaretreat.com/workshops/events-new/galiana-grand-opening/
###