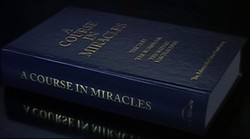 and it is available to everyone always.
Lake Delton, WI (Vocus) September 7, 2009
A series of twelve lectures entitled "The Bible talks of A Course In Miracles" are currently being prepared and will be available in mp3 and pdf formats at the website " A Course In Miracles Online" on October 8, 2009. The lectures aimed at Bible students, scholars and theologians are designed to offer a review of popular biblical themes, and their experience from an entirely different and very exciting perspective.
According to illuminate Course In Miracles teacher, Jubi Onyeama, The teachings of Jesus Christ, Paul, and the Prophets of the Bible can and must be expanded into an experience of realization. That is their purpose. They have to be heard in a whole new way. They direct an action of the mind in forgiveness and love. The mind training program of A Course In Miracles engenders that kind of hearing, that "aha".
Onyeama further stated that, "it must be understood that A Course In Miracles is not a "belief" system. It is an ancient yet brand new Thought system. It is not concerned with what you think. It is concerned only with how you think. It's only goal is enlightenment. One must undergo the experience of enlightenment. In that experience is everything made clear, and seen in a whole new light. Beliefs have nothing to do with Truth. All true learning is revelatory. Truth literally dawns on the mind."
"The 12 lectures will employ the vast resources of the Master Teacher of A Course In Miracles and explore and elucidate traditional Christian ideas such as the Second Coming for example," explained Onyeama. "Most Christians believe that at some point Jesus Christ will physically descend to the Earth from Heaven in an event known as the "Second Coming", and subject mankind to the "Last Judgment". However, Jesus himself expresses the idea in the Course In Miracles in a different way. He offers it as a personal direction and if you allow yourself to be directed and not seek to reach conclusions about what he is saying, you will experience a shift in consciousness. You will see that he is not referring to a future possibility, but a present occurrence within the mind."
Onyeama continued, "Let's take a look at how he handles it." And proceeded to read, "Christ's Second Coming, which is sure as God, is merely the correction of mistakes, and the return of sanity. It is a part of the condition that restores the never lost, and re-establishes what is forever and forever true. It is the invitation to God's Word to take illusion's place; the willingness to let forgiveness rest upon all things without exception and without reserve."
"It is the all-inclusive nature of Christ's Second Coming that permits it to embrace the world and hold you safe within its gentle advent, which encompasses all living things with you. There is no end to the release the Second Coming brings, as God's creation must be limitless. Forgiveness lights the Second Coming's way, because it shines on everything as one. And thus is oneness recognized at last."
"The Second Coming ends the lessons that the Holy Spirit teaches, making way for the Last Judgment, in which learning ends in one last summary that will extend beyond itself, and reaches up to God. The Second Coming is the time in which all minds are given to the hands of Christ, to be returned to spirit in the name of true creation and the Will of God."
"The Second Coming is the one event in time which time itself can not affect. For every one who ever came to die, or yet will come or who is present now, is equally released from what he made. In this equality is Christ restored as one Identity, in Which the Sons of God acknowledge that they all are one. And God the Father smiles upon His Son, His one creation and His only joy."
"Pray that the Second Coming will be soon, but do not rest with that. It needs your eyes and ears and hands and feet. It needs your voice. And most of all it needs your willingness. Let us rejoice that we can do God's Will, and join together in its holy light. Behold, the Son of God is one in us, and we can reach our Father's Love through Him."
"That is the action of a whole mind," reiterated Jubi Onyeama, "and it is available to everyone always."
The lectures "Bible Talks Of A Course In Miracles" will be launched at http://www.acourseinmiraclesonline.com on October 8, 2009.
For more information about A Course In Miracles, visit http://www.thecourseinmiracles.com.
###