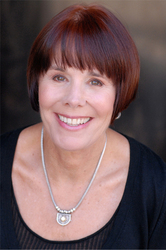 Life does not have to be about the terrible tragic things that happen to us, but rather, it is a journey of awakening to Spirit.
San Francisco, CA (Vocus) March 25, 2010
Pamela Prime, a leader in the field of spirituality, will give two presentations at Boston College, Saturday, April 10, 2010. The conference theme, Living the Journey: Spirituality for the Second Half of Life, will feature Prime and fourteen other renowned experts from the fields of theology, ministry, and health.
Prime, who recently authored the compelling Spiritual memoir, "When the Moon is Dark, We can See the Stars," is known for her ability to inspire, encourage, and empower those who are confronted with loss and trauma. "If we are willing to feel into the depths of our being, any experience can wake us up and take us more fully to love," said Prime. "Life does not have to be about the terrible tragic things that happen to us, but rather, it is a journey of awakening to Spirit."
About the conference:
Focused on the spiritual and psychological challenges adults face during the second half of life, the day-long conference is hosted by the Boston College Alumni Association, the Church in the 21st Century Center, the School of Theology and Ministry, the University Institute on Aging, and the Sloan Center on Aging & Work. Co-sponsored by the Connell School of Nursing and the Graduate School of Social Work and generously supported by Liberty Mutual Insurance. More information and registration is available on the Boston College website http://www.bc.edu/journey
About Pamela Prime:
A gifted and compassionate teacher, Pamela Prime has used her extraordinary talent for storytelling throughout her career as a Spiritual Director, Educator, Author, Lecturer and Retreat Leader. Pamela has served as a Core Faculty Member at the School of Applied Theology, as well as, an Adjunct Faculty Member at The Jesuit School of Theology. It was there she was appointed as Director of Colloquium and Academic Advisor for Sabbatical Programs. Although her personal journey and education are greatly rooted in Catholicism, Pamela's innate mysticism, teachings and message transcend many faiths. Her lectures and workshops have spanned the globe and include: Sacred Feminine Images & Discovering the Self with Humor and Spirit in Kenya and Tanzania, Sexuality and Spirituality in Brazil, Eco-Feminism in Peru, Remembering and Claiming Wise Women throughout the USA and Greece. Pamela Prime, a mother and grandmother, lives with her husband, Dave Kirkpatrick, in Twain Harte and San Francisco, CA.
###