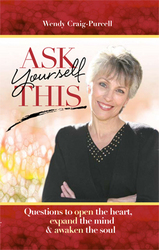 To me, religion is about a set of beliefs. Spirituality is about living from an awareness of God. Religion tends to divide us. Spirituality unites us
(Vocus) September 16, 2009
Unity Village, MO. While many books are written to give us answers, Wendy Craig-Purcell's new book, Ask Yourself This, guides us to ask ourselves the deeper, self-reflective questions to call forth our own personally-unique answers. Ask Yourself This takes a fluid, dynamic approach based on questions that are essential at this very important moment in humankind's evolution. The book was released September 1 by Unity House.
"The essence of Ask Yourself This is that living a spiritually vibrant life is not only personally powerful; it is absolutely relevant in today's world. The circumstances many of us are facing in these troubled times require us to re-think various aspects of our lives ranging from spirituality and life purpose to careers and relationships. Questions are channels through which our mental, emotional and creative energy flow. As we allow these questions to settle deeply within ourselves, the answers we receive will be uniquely our own opening us up to possibilities we never considered before. When we think differently and act differently, the results we receive are delightfully different," said Craig-Purcell.
While guided inquiry is as old as Socrates, Craig-Purcell's process is designed for today's consciously-aware reader. The book is powerful with real-life anecdotes and supporting quotations for added impact and understanding. The category of questions covers happiness, relationships, inner genius, success, spirituality, self-knowledge and personal growth.
Examples include: What if this could be easy and fun? How safe is it for people to walk through the corridors of my mind? If I could solve the "how," what would I do? Am I willing to let go of the size of the life I've known to have a bigger life?
"For countless numbers of people, the religions of our childhood have fallen short in answering many of our most important questions. It is from our own innate spirituality that new answers arise leading us to personal transformation and the integration of higher levels of consciousness in our day-to-day living," said Craig-Purcell.
This first-time author is uniquely qualified to help readers pause, reflect and expand their understanding. Ordained as one of the youngest Unity ministers, Craig-Purcell founded The Unity Center in San Diego, California, while still in her twenties. Over the last two decades, this spiritual community of members and friends has grown to over 4,000.
The book recounts how Craig-Purcell applied the questions in the book at critical points in her own life, from deciding to become a parent to solving problems with a church building project. The section on parenting is based on her experiences using questions to understand and guide her children. Craig-Purcell continues to use questions in her daily meditations.
Craig-Purcell describes herself as spiritual but not religious. "To me, religion is about a set of beliefs. Spirituality is about living from an awareness of God. Religion tends to divide us. Spirituality unites us," she said. Craig-Purcell draws from Eastern and Western faith traditions and from the work of visionaries Charles and Myrtle Fillmore, founders of the Unity movement.
Spiritual teachers with similar views include Rev. Dr. Michael Beckwith and Deepak Chopra, M.D. Craig-Purcell has worked closely with Beckwith through her involvement with the Association for Global New Thought. In 2008, she interviewed Chopra for a six-part video series, Jesus and the Awakening to God-Consciousness. The series was aired this year on KQED in San Francisco and other public broadcasting affiliates.
Ask Yourself This: Questions to Open the Heart, Expand the Mind and Awaken the Soul, is 125 pages in soft cover with a cover price of $14.95. The book is available through the Unity House Web site (http://shop.unity.org) and through distributors DeVorss, New Leaf and Ingram.
Craig-Purcell can be reached through her public relations coordinator, Barbara Ben-David, at 858-689-6500 Ext #105. Please visit the website at http://www.wendycraigpurcell.com.
About Wendy Craig-Purcell
Wendy Craig-Purcell is Founding and Senior Minister and CEO of The Unity Center, a spiritual community of 4,000 members and friends located in San Diego, California. The Unity Center celebrated its 25-year anniversary in May 2008. Craig-Purcell is a graduate of the Unity School of Christianity, Unity Village, Missouri. She was ordained in 1980, one of the youngest persons to ever be ordained in Unity.
Craig-Purcell has been active for many years in the Association for Global New Thought (AGNT). She joined the organization's Leadership Council in 1999 and currently serves as Vice President. Wendy participated in all three AGNT-sponsored "Synthesis Dialogues," which brought together some of the world's thought leaders to dialogue with His Holiness the Dalai Lama of Tibet. The dialogues were held in Dharmsala, India, in 1999, in Trent, Italy, in 2001 and in Rome, Italy, in 2004.
Craig-Purcell has been involved with other important AGNT activities, including producing six large-scale "Awakened World" conferences and the Gandhi King Peace Train and Living Legends of Nonviolence Conference. She traveled to Istanbul, Turkey in November 2006 as part of the planning for the Abraham Path Initiative, in partnership with the Harvard Negotiation Project, to open up a pilgrimage route in the Middle East retracing the footsteps of the prophet Abraham.
Craig-Purcell has been active in a variety of other Unity and New Thought organizations. She has served as President and Treasurer of the Southwest Unity Region, as District President of the International New Thought Alliance, and as Chairman of the Association of Unity Churches Church Growth Committee.
In addition, Craig-Purcell serves on the board of the Foundation for Affordable Housing in San Juan Capistrano, California. Her service awards include the Gandhi Non-Violence Award from the Tariq Khamisa Foundation and induction into the Martin Luther King Jr. Board of Preachers Hall of Fame.
Craig-Purcell lives in San Diego, California (Scripps Ranch) with her husband, John Purcell, who serves as Director of Operations for The Unity Center, and their two children: Johnathon, age 18 and Jennifer, age 13.
About Unity
Unity is a positive, practical, progressive approach to Christianity based on the teachings of Jesus and the power of prayer. Unity focuses on the teachings of Jesus and how to apply them in everyday life, rather than focusing on Jesus as a person. In Unity, Jesus is viewed as the great example of what is possible for humankind, rather than the exception.
Unity co-founders Charles and Myrtle Fillmore wanted to help people realize their oneness with God, and to demonstrate the amazing power of the Christ spirit within. They taught others how to see the Christ in themselves as well as in others.
The organizations that carry forth the Fillmores' work are the Unity School of Christianity and the Association of Unity Churches International and its member churches. Unity is also part of the broader New Thought movement. Unity School is headquartered at Unity Village, Missouri, on a 1400-acre tract 15 miles southeast of Kansas City. The Association of Unity Churches International is headquartered in Lee's Summit, Missouri, just a few miles from Unity Village.
Unity House®, the multimedia publishing arm of Unity School of Christianity, has been publishing spiritual books and magazines since 1903.
###